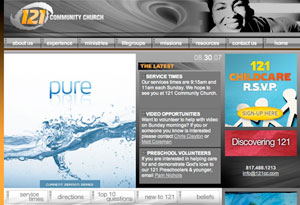 Based in Grapevine, Texas, the 121 Community Church site is very attractive, but also pretty basic when it comes to some of the sites I've been reviewing in this series. One of the reasons I wanted to give it a good once-over is because a fellow OBU grad and Southwestern alum is the senior pastor there – Ross Sawyers.
One of the things that struck me about their site is first of all life and then second of all busyness. There were so many to click and pursue from the main page. Drop down menus, flashy things, glitter, a new CD coming out by their worship team, the ability to register to become a childcare worker, etc… Whew.
They have a well-developed site, and I know they're proud of it; however, after reviewing it, I began to wonder if perhaps simple isn't better? The positives are that a person who has time to research and wants to find out more about 121 CC can certainly do so! Everything is there to be discovered. The downside to the site (and many church sites) is that just because you can design a site to contain everything and the kitchen sink doesn't mean you ought to.
It made me wonder and begin to brainstorm a little about how to use your ministry site as a steamlined pointer. Identify one or two central purposes for your site and then funnel all the design technique into directing vistors toward a certain place. I think Northpoint Community Church has done an excellent job with their landing page that directs first-time web guests or church visitors to a certain spot, members to a spot, church leaders from around the world to a spot, etc.
However, I'd encourage you to stop by the church site and tell me what you think. If this is your first time to visit one of the church sites in this series, look at some of the others I've done and compare 121CC to them.
I'd love to visit 121CC someday, and I've subscribed to a few podcasts in order to catch up with Ross.
On this day...
Latest posts by Jeff Noble
(see all)