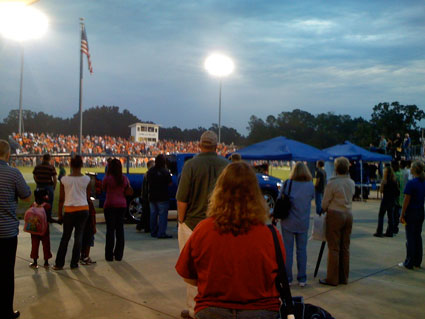 Whew! I'm sitting here on a Sunday night reflecting on a busy, fulfilling weekend which our family and friends, many from Journey, spent in service.
On Friday evening, about 15 of us volunteered to work the concession stand at what is always the busiest home football game of the year for one of the local high schools, the Billies. Since they were playing their rival Warren, the stands were completely packed on both sides. It's a surreal experience to realize that in many places, Friday night high school football is not as big a deal as it is here. However, in our locale it is a cultural icon.
From the moment I entered the concession stand with Carolyn 30 minutes before game time to the moment we shut the doors as the game concluded (Monticello got blown out), we felt like it was piranhas at a buffalo river crossing. And we were the buffalo. It was simply crazy – but fun.
We got up Saturday morning for a work day at Journey. It was the first work day we've had there since late mid-June, I think. After moving into our new facility and remodeling it, we've simply been too busy to take care of a lot of minor projects and cleaning. We had a herd of workers show up and help with everything from cleaning 15+ years of mulch out of the roof gutters to building shelves in a closet for the praise band. It was awesome to see so many be so enthusiastic and helpful about menial things.
After church today, one of our members cooked a major gumbo feast for everyone as a fundraiser for our upcoming Denver mission trip. It was delicious! Sunday afternoon, another church member went out to help make plans to hook water up for a family that has been attending Journey who doesn't currently have it.
Finally, tonight we had a small group leader meeting back at Journey, and every family that is helping lead a small group faithfully showed up. We had a wonderful, laughter-saturated and prayer-filled time of sharing and preparation. Then we watched a portion of a video about biblical interpretation that was fantastic.
Right now, the kids are in the living room, cleaned and ready for bed, shooting Hot Wheels all over the place and laughing the heads off. I'm signing off for the evening and the weekend!
On this day...
Latest posts by Jeff Noble
(see all)