About
Wow. What can you say about yourself without appearing like you're blowing your own horn? I love life. Mainly because of my relationship with Jesus Christ. I'm ecstatic about the change He's made in me, and I've pledged my life to help others discover the joy of following Him. I graduated from high school in 1986 from Pulaski Academy in Little Rock, Arkansas and was able to attend Ouchita Baptist University on a free-ride scholarship due to being selected as a "Governor's Scholar."After graduating from OBU in 1990, I stayed in Arkadelphia for another year running a graphic design business that I started with Mitch Bettis called AdVantage Advertising. We had an amazing experience working together and learning about business management. Of course, we did it all on Macs. In 1989-1991. Yes, we were Mac Daddies.
I sensed a call to full-time ministry in the winter of 1990-1991 and went to Southwestern Baptist Theological Seminary in the fall of 1991 in Fort Worth, Texas. While in Texas, I served at Happy Hill Children's Home as a resident advisor, at Tolar Baptist Church as a youth minister and for the last three years at First Baptist Church Garland as the young adult minister.
I graduated in May 1995 with an M.Div and shortly afterwards moved to Monticello, Arkansas as the Baptist Colleigate Ministry director at the University of Arkansas at Monticello.
I served with collegians for eight years through BCM and LOVED every moment of it. Yet I knew I was being directed to help start a new and different church in Monticello.
Journey Church was planted in the summer of 2003, and we were blessed every step of the way to see God transform lives and use our fellowship to impact collegians and families in southeast Arkansas. It was an amazing experience. We often tell folks that church planting is one of the most marvelous and most miserable experiences they'll ever encounter.
Northstar Church of Blacksburg, Virginia called me to be their pastor in May 2009 after their founding pastor retired in 2008. We moved to the Commonwealth of Virginia that July. Since then, we've been blessed and stunned at God's gracious work in our new church family. With an emphasis on "Don't go to church; Be the church," we are humbled and excited about the work of Christ in the New River Valley which contains three colleges (including Virginia Tech) and a medical school.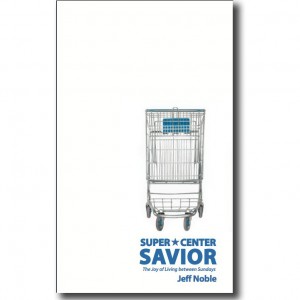 Family-wise, my wife is a photographer on the side and currently works at Blacksburg High School in the guidance office as administrative assistant. She's a cancer survivor which has prompted deep gratitude for life. We have two kids –  Sam is 20, into all things sports and outdoors, and is a student at UNCC. Adelyn, 18, is our creative/comedian/musician and just started as a freshman at CNU.
In 2012, I completed a project I'd worked on for about four years, and it was published as Super Center Savior on December 18, 2012. I'd be flattered if you bought it and left a comment somewhere!
I hope this blog is an encouragement to you on your own "journey!"
SaveSave