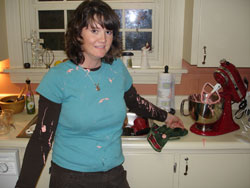 "Aaaaaaaah!"
I heard the scream burst from the kitchen. I jumped up, wondering what in the world was going on.
This is what I found.
If she had stuck with the Hamilton Beach mixer, I'm sure that would have never happened.
On this day...
Jeff is the pastor of Northstar Church in Blacksburg, Virginia. He grew up in Arkansas, loves fantasy football and is an Apple fan boy. Follow him on Twitter or Instagram @journeyguy.
Latest posts by Jeff Noble (see all)