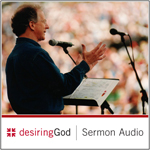 This is the audio of John Piper's sermon from July 13, 2008. Piper examines the importance and biblical foundation of church membership. His points are powerful refutes of the "I don't need to belong to a local church" attitude that has ebbed and flowed throughout history. 
He details "5 strands of evidence" which include:
The church is to discipline its members. (How can you discipline someone if they do not consider themselves under the authority of spiritual leaders or an understood gathering of believers that has "membership?")
Excommunication exists. (Why does the New Testament prescribe and describe this practice if church membership is meaningless?)
Christians are required and commanded to submit to their spiritual leaders.
Shepherds are required and commanded to care for their flock.
The metaphor of the body.
On this day...
Latest posts by Jeff Noble
(see all)