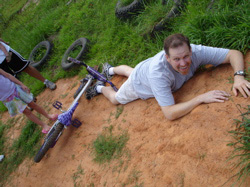 We got back this afternoon around 4:00 from our weekend at Beech Springs Baptist Camp near El Dorado. It was a fantastically relaxing weekend spent with some of our dearest friends – our Journey Church family. This was our second year at Family Camp, and it was full of laughter, games, kids, more laughter, about 37 bike wrecks, crying, more laughter, kids, and late-night coffee with Spades, Speed Scrabble and Settlers.
I wanted to lob this entry out to let you know that more is coming. But in the meantime, we're baaaack. You can also check my Flickr account for pix of FC07.
On this day...
Jeff is the pastor of Northstar Church in Blacksburg, Virginia. He grew up in Arkansas, loves fantasy football and is an Apple fan boy. Follow him on Twitter or Instagram @journeyguy.
Latest posts by Jeff Noble (see all)