Update (11/22): I'm coming to try this new theme for a while. It's called Crybook and is a take-off on the old Facebook look.
I've got the blog redesign itch again. I've been playing around with various new looks over the past few days and haven't come to any conclusion yet. So I'm tossing this entry out, hoping for some feedback. 
What features do you currently enjoy about this blog as it's currently designed? (i.e., Recent Comments, Lifestream, Recent Posts, Book List, etc.)
What have you seen elsewhere that you think would make a nice addition?
If I went with "simple," what are the indispensable elements you would want to see?
Other suggestions…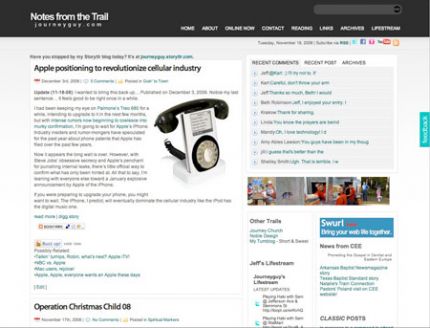 On this day...
Latest posts by Jeff Noble
(see all)