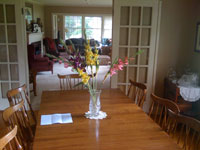 Whew. The last three weeks at the Noble household have been a blur. I went from planning for future impact and ministry here in Monticello to an abruptly joyful turn toward future ministry in Virginia. It's complex to drag your brain and focus from one group of amazing people to another. I feel caught in a lobotomy limbo. We went from helping plan Vacation Bible School with two other churches to trying to sell a house in a month.
Carolyn and I went out to eat tonight with Phillip and Rosie, some very good friends of ours. It's starting to dawn on us that every meal, every get-together with Arkansas family and friends should be savored. As we prepare to make the trek east in mid-July, we are trying to cram in as much as we possibly can.
She and I will be co-leading a trip to Poland on June 29 with Tracy Reed, the UAM BCM director (another great friend). We will be taking six of the UAM softball team members with us. They will be conducting a sports clinic to aid the missionaries in Poland build relationships with more of the Polish people. If you can give to this trip, I've written about the great need here. That will be a week we're out of town in the middle of all this.
We have shown our house 3 out of the last 5 nights and have two more appointments in the next few days. We are praying that the right family discovers this wonderful house and makes a quick offer so that things will progress smoothly. It's almost too much to consider.
Sam is leaving for Camp Kanakuk tomorrow morning, and after that he and Adelyn will be going with the First Baptist group to their children's camp. From there, it's off to New Mexico for them to visit grandparents while we're in Poland.
I'm doing a wedding for a couple at the end of this month, and I'm praying and working hard to help our church establish a transition team and process. I'm thankful that they have such incredible faith attitudes during this time with us. It's been encouraging to receive such blessing from them.
Perhaps one of the most meaningful exchanges I've had over the past three weeks was one evening with Adelyn. As we were returning home one night, a conversation in our car was ending as we exited the vehicle. Adelyn said, "What church wouldn't want Daddy to be their preacher? Duh!" My heart and head are still a little swollen after that, I confess. It meant all the world to me to have the confidence of my children, whether or not any group of people felt the same way was irrelevant. I'll have to remind her of that next time I catch her coloring in the "Os" on the announcement sheet.
Grateful
On this day...
Latest posts by Jeff Noble
(see all)