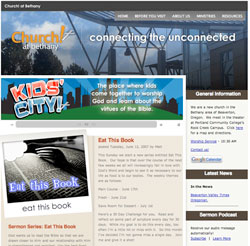 Located in Beaverton, Oregon, Church! at Bethany is meeting in a movie theater for now. Here are some things I like about their website:
Simple Core Values
Implementation of Google Calendar
Obvious partnering with other churches by including other church's pastors on their "Management Team"
I really like the idea of the "Before You Visit" tab with a "What to Expect" link for folks who might be considering attending.
It's obvious they have a dynamic commitment to and a novel approach to childrens/whole family ministry.
What do you notice/like?
On this day...
Jeff is the pastor of Northstar Church in Blacksburg, Virginia. He grew up in Arkansas, loves fantasy football and is an Apple fan boy. Follow him on Twitter or Instagram @journeyguy.
Latest posts by Jeff Noble (see all)