Inspired by a recent list of the 15 best church plants of this past year, I'm going to attempt to bring you some church websites that I consider to be innovative, well-designed and which provoke interaction.
Web ministry is not something that most churches take seriously, but consider this:
In our small, south Arkansas town of about 9100 folks, our church has about 50 members. At least 15 of our membership blog semi-regularly (4-5 do so almost daily). Almost all of our visitors and guests over the past 6-9 months have built relationships with folks at our church first through our blogs and our website.
I can't explain what's happening, other than to say that people don't feel threatened by websites or blogs. After all, they can close the window if they want to. However, web ministry gives people the opportunity to anonymously explore faith, observe Christians as they live, talk, and write, and to finally make the leap to attending a small group or church "when they're ready."
Without further ado, here's the first church website you simply must check out. I'd like to know your first impressions.
Village Community Church, Milton Ontario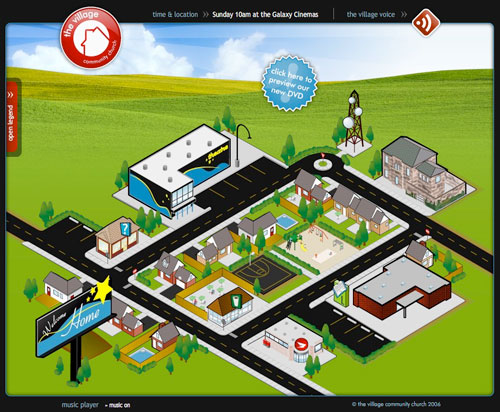 What is attractive about the site?
What can you tell about the substance of the church from the site?
If you lived in the area and were not a church member, would this church's site be something that might lead you to investigate further? Why or why not?
What do you not like about the site?
On this day...
Latest posts by Jeff Noble
(see all)