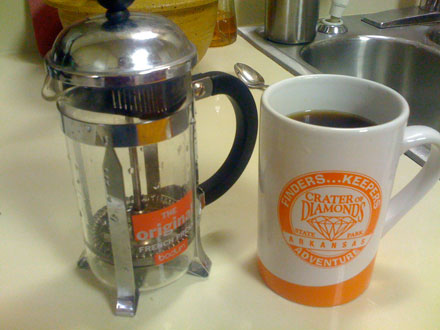 I don't know how many of you have discovered the delight of a coffee press. I've been through three now. Mainly because I broke one and had to reorder it. (No, it's not a Donald coffee press… But that does make me wonder if I have an advanced case of break-ism.) I now have two coffee presses, one that's a two-cupper, and the single cupper above in the picture.
If you're unfamiliar with coffee presses, they're wonderful inventions. Also known as the French press, it's been around for a while. Basically, you put a scoop of fresh ground coffee (or if you're lazy, Maxwell House) into the glass beaker, add hot water, stir and let steep for 2 minutes. Afterwards, you slowly "press" the plunger down, pushing the grounds to the bottom of the beaker. The result is a fresh, espresso-like cup of incredible goodness. There's a good article here about how to achieve the best brew.
It's become a part of my evening routine. It makes for a perfect evening, after the kids are in bed to press a cup or two of coffee, snatch up the book of the moment, climb into an easy chair and drink up the quietness of the evening. (Of course, the quietness is often interrupted by Caro's favorite shows – Design on a Dime, Deal or No Deal, or Dancing with the Dorks.
So what's your nightly routine look like? Post kids? Keep it clean, please! 😉
On this day...
Latest posts by Jeff Noble
(see all)