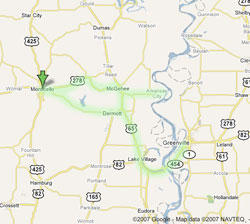 Carolyn's folks were here over the weekend. They had a whirlwind Arkansas experience. From the 4H Range Events competition in Ferndale to a swim meet in Monticello to church to a Delta road trip, they stayed busy.
After lunch on Sunday, we decided to pile into the Sequoia and head East. Pa wanted to see the Mississippi River. He said he wanted to throw a rock into it. Living in the area for the past 12 years, we take the Delta for granted. It's a beautiful part of our country, and as we passed through rich farmland, one couldn't help but be in awe of creation.
Before McGehee, we made a detour and saw a bald eagle's nest (and the bird!). Also on the way we marveled at the lush, other-worldly green of the Bayou Bartholomew. It was surreal driving down a muddy, narrow farm road with crops on one side and lilly pads the size of a tuba on the other.
We went to Arkansas City, which at one point in Arkansas history was destined to be a significant economic and agricultural center of the state. That was until the great flood of 1927 essentially wiped it off the map. Honors passed to its across-the-river neighbor, Greenville, MS, and the town never recovered. A great book on this is John Barry's Rising Tide.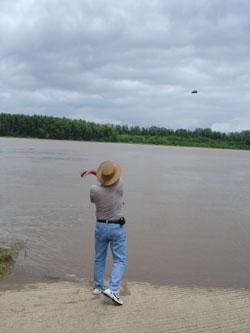 From Arkansas City, we headed south on Highway 65 and arrived in Lake Village, a stunning Delta town that boasts gorgeous lakefront property of Lake Chicot. Like most Arkansas Delta towns, it looks like a fourth grader's room that has never been cleaned. It's frustrating and sad to see so much potential in a community, while those who live there seem to have no idea how to do city planning or beautification. Intersections on the main highway are overgrown and trashy. Abandoned buildings rot in plain view. While nice new construction does exist, many times it's overshadowed by the general feeling of a city-wide consignment store.
We stopped at the very nice visitors' center on Lake Chicot, (the largest oxbow lake in North America and the largest natural lake in Arkansas, formed hundreds of years ago when the Mississippi River changed course – from Wikipedia) just off Highway 82 and took some shots of the lake before heading over the river bridge to Greenville. We were taken aback by the sheer grandeur of the new river bridge under construction to the south of the existing one. The guide at the VC said that it was one of the largest cable bridges in the world.
After a stopover in downtown Greenville, we headed back through Dermott, a town that has beautiful homes interspersed with buildings that look like they were last used 50 years ago. Again, economic conditions and a general lack of community strategy have resulted in a feeling that Dermott still exists, but only by the hair of its chinny-chin-chin.
The trip was simply wonderful. Full of the oooo factor and a gentle reminder that it wasn't too long ago that a "Sunday drive" was commonplace for families and friends. It was a restful, enjoyable way to spend an afternoon.
On this day...
Latest posts by Jeff Noble
(see all)