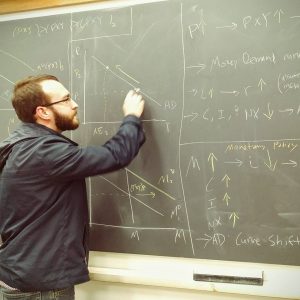 Viktor Orekhov was one of the first people I met when we moved to Blacksburg. He showed up as a graduate student to help us move into our rental home. I was a Mac user, and he was (and sadly remains) an avid PC user. He is also one of the smartest people I know, which when combined with his wit and love for Jesus makes him near and dear. We've done a lot together – from filming "The Office" knockoff episodes, ministry, riding segues, to drinking gallons of coffee. I'm grateful for his reflections on discipleship.
What are you afraid of?
It was a simple question, nothing profound. But at that point in the conversation, it cut through all the confusion to get to the point. Jeff has a way of asking good questions like that. This conversation in particular was a one-off visit a couple months ago, but it reminded me of the many discipleship conversations I've had with Jeff over the years.
But I didn't always "get" it. After our first meeting, I literally walk back to my car thinking "is that it?" Jeff had invited me to join a discipleship group with two other guys to go through a book together. The book was…well, forgettable. I had come expecting a deep theological debate or at least 1-2 wise quotes I could write down in my notebook.
But no.
Week after week, we would simply use the book as a prompt to discuss scripture and what was going on in our lives. Over time though, these simple gatherings turned into a sweet friendship. The kind of friendship where, years later, I can reach out for advice and he knows me well enough to ask the right questions. And I think that's kind of the point. What I've learned from Jeff over the years is that discipleship isn't about going through a checklist or having all the right answers. Study materials and methods can help, but all it really requires is caring enough to ask simple questions, having the patience to actually listen, and then consistently pointing them to Christ.
That's something all of us can do… What are you afraid of?
"Let us hold fast the confession of our hope without wavering, for he who promised is faithful. And let us consider how to stir up one another to love and good works, not neglecting to meet together, as is the habit of some, but encouraging one another, and all the more as you see the Day drawing near." Hebrews 10:23-25
Also in Discipleship Stories
Discipleship Story: Viktor Orekhov
On this day...
Latest posts by Viktor Orekhov
(see all)