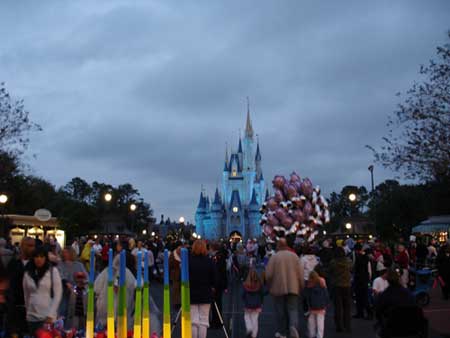 Howdy! The Noble-keteers arrived in Orlando singing It's a Small World After All. We ran into Brian and Kristy Moore and their kids at the Little Rock airport, also bound for Disney World. They'll be on our flight on our return, as well.
We arrived about 3:00 p.m. and were shuttled to DW about the Magical Express. Our luggage was supposed to follow us, no later than three hours after our arrival. Cool. They deliver it to your room. So we headed to the Magic Kingdom, took a brief stop in Tomorrow Land, watched the nightly parade, chowed down on some most excellent burgers and sundaes, and were enchanted by a majestic/magical fireworks display with Cinderella's castle as the backdrop. This singular explosive extravaganza made Monticello's July 4th lake display all wet by comparison. Actually there is no comparison.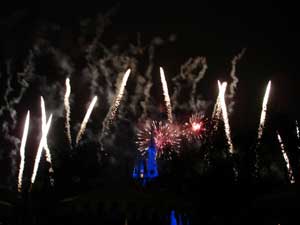 About 9:00 (FL time; 10 p.m. AR time), we headed back to the hotel (Pop Century) and discovered that our luggage hadn't been delivered yet. Exhausted, we called the front desk and then I made a trip down there to play good cop – bad cop. After 45 minutes of trying to figure out what had happened, I was assured there was a massive delay and it would be delivered sometime overnight. When I returned, Caro and the kids were just getting into their pj's. The luggage had beat me back.
Sunday…
We got up early and want back to Magic Kingdom. Although overcast, it was just perfect. Highlights included Space Mountain (which the kids loved – though Sam developed a mysterious upset stomach just moments before we boarded) me getting my picture taken with Donald Duck, my favorite! As we walked back through the center of the park, we got picked by one of the cast members to participate in the Family Fun Parade. Basically, this means that unsuspecting families get suckered into marching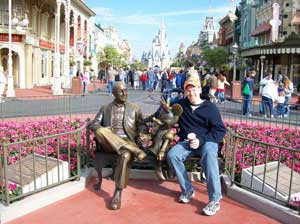 behind the Disney characters in a parade down Main Street, being encouraged to wave flags in rhythm with the music – all way too tall of a request for this boy. After the first block or two, I was finally able to enjoy it, but only because I began to poke Sam in the back with my flag.
We meandered all over Magic Kingdom today, until Caro and Adelyn made their exit to go eat at Cinderella's Round Table and Sam, and I beat a retreat back to the hotel to watch the Superbowl, which we're doing right now as I type. Score: Bears 14, Colts 6. Sam is rooting for the Bears, me the Colts.
On this day...
Latest posts by Jeff Noble
(see all)