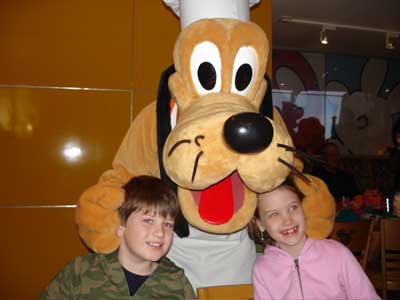 Wow. Just when you think a day can't get any better, when you're on the verge of declaring yourself impressed to the max, when you sense you are at an enchantment overload… it gets better. We slept in a little this a.m., to about 8:30. We were on a bus, then a monorail by 9:30, heading to Chef Mickey's, a breakfast buffet where the characters from Disney make stops at every table for a few hugs, laughs, and autographs.
Not only were the mini-Mickey waffles a forcible two-trip delicacy, but the hospitality and warmth of the place made you want to sit there for the day, coffee in hand, and simply watch the myriad faces of children light up upon special attention and
affection from Mickey, Minnie, Donald, and Goofy. Our kids were treated (for a few brief moments) as if they were the most important kids in the place. We ate it up, and I don't think anyone cared that Caro and I were flashing the entire restaurant (with our cameras).
From there, we headed to Animal Kingdom. I had no idea it was as huge as the Magic Kingdom. Nor so amazing. We took a safari ride in a real truck with about 20 other folks and saw the whole gamut of African wildlife. Lions, and tigers and wildebeests, oh my.
We stepped from amazement to delight to astonishment seamlessly. Around one corner was a provocative ooooo, and just around the next was the proverbial aaaaaaah. If it had been warm enough for flies, my mouth would have been full of them. My jaw was sore from dropping.
The highlight of the day for me was the 4:00 parade through the Animal Kingdom. It was simply mesmerizing.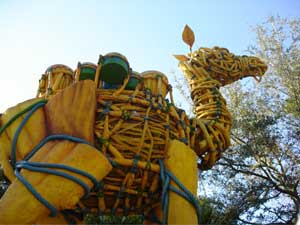 If you've ever seen the Disney Broadway musical Lion King, then you have an idea of the eyepopping engineering that Disney is capable of producing to create animals that sway, lope, and act like real ones – all out of sticks, poles, and canvas. The parade featured no less than 15 Disney characters and probably 20 floats/animals that had the crowd lining both sides of the street chorusing their delight. I think Caro took 100 pictures.
We returned to the hotel to eat and are now winding down for the evening. What magic will tomorrow hold?
Keep checking Flickr for updated Disney pix.
On this day...
Latest posts by Jeff Noble
(see all)