Wow. C'mon people, we're on vacation! 😉 I neglected to post yesterday's activities and received a flood of perturbed emails. I know you're all vicariously living life through us right now, but please, remember patience.
Wednesday (Day 5) was, well, an extension of our magical experience. I can't come up with enough adjectives to spread thickly on our day's description. I remember thinking on Monday (Day 3) that surely I was going to come to a point that it was not new, that I'd "done" Disney World. However, that point has not been reached (and I'm writing on Day 6). Wednesday was as full of surprise, delight, and sheer enjoyment as any other day since we've been here.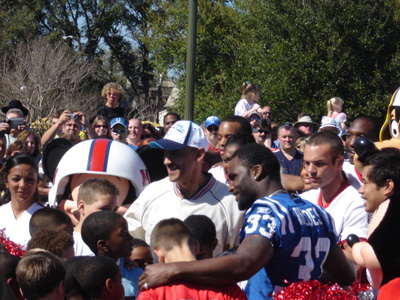 We had actually planned our trip so that we would be here during the Superbowl and the week after. Sam and I brought all the Colts and Bears football cards we could find and planned on stalking the Superbowl MVP. For the past umpteen years, the MVP comes to DW or DL the week after the Big Game. However, for some reason, (and no one's talking) this year was different. Peyton Manning did not show. However, Colts' Coach Tony Dungy and their running back, Dominic Rhodes did show up on Wednesday! We'd been calling the concierge every day to find out when the parade would be held, and on Wednesday morning, we got the word.
We changed our destination plans and headed back to the Magic Kingdom in order to be there for that. We stumbled upon a roped-off area around 11:45 a.m. and were told that the guest stars would be there at 12:30 p.m. Long story short… they finally showed, and no one was disappointed. As they were herded off the makeshift field to prepare for the parade, I had steered Sam to be right where they exited. At that point, I said, "Dominic!" and shoved Sam's player card in his hand. His "handlers" urged to to let him pass, that he was in a rush, but Rhodes was classy and stopped to sign the card. You won't believe the next part. To our dismay, Sam's pen wouldn't write on the football card. He tried both sides, and then was forced to be hurried out of the area.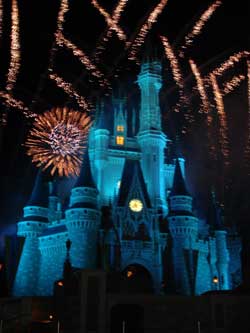 Although we were both very disappointed, it was worth it. Now we have a Dominic Rhodes card that he has actually touched. I'm trying to talk Sam into putting it on Ebay for a million or so.
After the Rhodes fiasco, we headed into the park and had a great time catching a few shows, riding Big Thunder Mountain, visiting the Hall of Presidents before winding up with a three-course dinner at Cinderella's Royal Castle. It was tres fancie, and we all loved it. They called Adelyn "princess" and called Sam "prince" and Carolyn "my lady" and me, of course, they called, "my lord." Remember that, people, or I'll have to say, "Off with your head!"
After an incredible meal, dining in the castle, we headed outside just in time to catch the evening's fireworks display. Sitting in front of the castle, listening to the music and watching the amazing sight of what had previously only been seen on TV screens was almost too much. My eyes got a little wet from something; must have been dew. However, the entire show is simply one of those special life moments spent with your family that you cannot forget.
On this day...
Latest posts by Jeff Noble
(see all)