On one hand, I think Caro and I are ready to come home. On the other, I can certainly agree with our kids in wanting "just one more day." Our week here in Orlando is up, and we'll board a Southwest flight tomorrow to head back to Little Rock (via Houston, go figure).
Today we slept a little late again and then headed to the remaining, unconquered theme park, Disney's Epcot (Experimental Prototype Community of Tomorrow). Arriving about 10:30 a.m., we sank our touristy teeth into some of the prime attractions right away. That means we shot for Mars in Mission Space and then Test Track. I swear my lips morphed back behind my ears in the amazing simulation of a lift off in the former. This was another ride in which Sam suddenly developed a stomach ache as we began strapping in. He said, "I've gotta get off this thing." I didn't much blame him when I noticed the provided vomit bags located right in front of us. It was the only Disney ride we were on that had them. Not an encouraging beginning.
On the latter ride, we accelerated to 60 mph in a curve to demonstrate the a race track. In this open air car simulation, it felt more like 160 mph. Adelyn was the one to hide her head behind my arm on this ride. However, I heard Carolyn say from the back seat upon our arrival back at the unloading zone, "My teeth are dry." Hmmm, I thought, mine were too. Who has ever thought that your teeth could get dry? It was such a novel concept that I thought about it all the way out of the building. I distinctly remember still thinking about it in the gift shop a few minutes later. Weird. Dry teeth. Next time you're travelling fast with your mouth open, see if your teeth don't get dry too.
We ate another whole-body experience lunch. (Day 3, last paragraph) Then we proceeded to the Honey, I Shrunk the Audience show. It was really cool. One of several experiences that you got to wear 3-D glasses on. And I'll admit that I don't guess I've ever experienced good 3-D before, because in just about every Disney show here, I've jumped or inadvertently yelled like a girl at something I was sure was gonna get me. In fact, (and I digress to Animal Kingdom Day) the It's a Bugs Life show was simply amazing. Not only was it 3-D, but at one point, they warned you about the swarm of wasps loose on the audience. In the next moment, your seat jabs you in the back (prompting another girly scream). In Shrunk, mice are released to run along the floor, and you literally think there are creatures running around under your chair as air jets shoot powerful missile bursts at your legs.
It was at this attraction that my running commentary began for the day that seemed to irk Carolyn. We were herded into a large room, shoulder to shoulder (with no seats) and then told to basically keep squeezing in. With that many folks in there, it was gonna get smelly and hot quick. There were plasmas (about 12) hanging from the ceiling. At some point, the show started, but it had nothing to do with Shrunk. It was basically a commercial for Kodak (who sponsored Shrunk), charming, but still a commercial. Then and only then, were we ushered into the theater in the next room and given our high tech seats. My snide comments about having to stand in a hot room with 500 other folks just to watch a commercial were not wel-received. Shrunk stood on its own and was actually a huge show. Don't miss it if you go. But also, don't hesitate to drift to the left of the large room and slip behind the curtain into the theater next door. It's nice and cool, and a commercial about pictures is apparently not worth a thousand words from an irritated husband/dad.
We proceeded around the Circle of Nations, or whatever it's called, and truly enjoyed our day. Carolyn had to keep reminding me that Epcot was different than the other parks and not full of hype and action. It was a very leisurely, slow, enjoyable encounter. However, I left there this evening with the feeling that of all the parks, Epcot was the least enchanted. I'm sure others would disagree with me, but I was so enamored with the other parks, that Epcot just didn't do it for me. Was it cool? Absolutely! Magical? Its wand was a little short to me.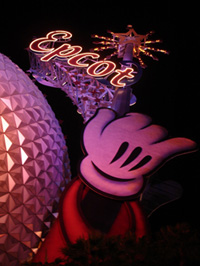 The kids had a great time creating masks that were given to them at the first country stop, at a "Kidcot Stop." In each country, all the workers there were really from that country, and so the kids enjoyed talking to the helpers at each Kidcot Stop. Adelyn said at Japan that the lady there "was trying really hard to talk like us." At the UK stop, she came away giggling and had a rather good impersonation of a British accent. At each place, their mask was stamped, and at the last stop, they were given a poster that was pretty cool. Their mask creations were both indicative of their personalities, and they really enjoyed the total experience.
We saw some amazing Chinese acrobats that I'm pretty sure had no spines. Normal people cannot bend that way.
We ate dinner at a Chinese restaurant that was just fantastic, and after completing our whirlwind, round-the-world tour, we headed back to the Pop Century Hotel Complex. It was probably an overall comment on either a) how tired we were, or b) that we had fun but didn't anticipate being overly impressed by the fact that we didn't stay for the concluding fireworks display at Epcot.
As usual, you can check out the pix at Flickr.
Oh, and check out these funny video cards we sent to family from Mission Space's computer kiosk (1, 2, 3).
On this day...
Latest posts by Jeff Noble
(see all)