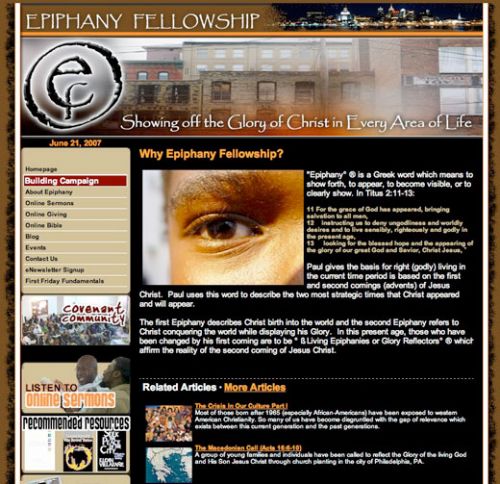 Primarily an African-American led, multi-ethnic congregation, Epiphany Fellowship is an Acts29 church in Philadelphia which has a vision for church planting in that megacity. I loved the video on the entry page, and the website overall is very organized and easy to navigate. I was intrigued by the depth of theology that they communicate consistently throughout the site. It's no "seeker-friendly" site, to be sure.
Even their "About" page teaches you exactly what an epiphany is, and why they chose to name their church in such a way. Their church intention goes like this:
We would like to see the Name of Jesus Christ Magnified by the credibility of the Church being reestablished in the world through Robust & Relevant Worship, Rich & Relevant Word, and Real & Relevant Witnesses (Eph. 2:20-21). We want to have inward depth, and be outwardly missional.
Their express the following as their Core Values: Commitment, Community, Communion, Conversion, Culturally-Relevant Ministry.
Their church vision: to comprehensively making disciples in a culturally-relevant way to impact the world to Jesus Christ's glory through:
Biblically Motivated Lifestyles (2Tim 2:14-26, 3:16-17)
Relationally Interactive Community (Acts 2:42-47)
Lifestyle Evangelism & Apologetics (Col. 4:2-6; 1Pet 3:15)
Lifestyles Of Worship (Jn 4:21-24)
A Culture of Hope (Tit 2:13-14)
Prayerfully Dependent (2Chron 20; Acts 4:31)
Healthy Families (Gen 1:26-28, 2:18-25)
This is the second church I've reviewed recently that has a "site within a site." When you click on "Building Campaign," it pulls up a site which I feel is much more attractive than their main site. In addition, that site has a much more comprehensive "About" page than the main site does. I'm a little confused by this.
However, I loved the description on this About page:
A church was necessary that had as well as connection with the "older" generation and connection with the "new." We never thought that a "hip hop church" was the answer, but certainly a church that had a heart, knowledge, and intention to see redeemed hip hoppers become the "beefiest of Christians." This longing to see a redeemed contingent from the hip hop generation become weighty, mature Christians…
On this day...
Latest posts by Jeff Noble
(see all)