I arrived in Orlando yesterday and had to rent a car. This was unplanned, but after discovering that a one-way trip from the airport was $55, I realized that I'd spend more on taxis than I would on car rental, so I'm styling in a Ford Edge. It is very nice, but it lacks get-up-and-go.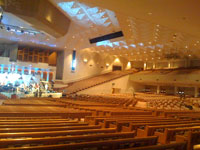 I drove to First Baptist Orlando where Exponential is being hosted and walked around, viewing the different ministry booths, picking up free pens, bags, and books. (Yippee!) I also had a chance to visit with several other church planters/new church pastors. The pre-conference intensives were very impressive, but the two that I wanted to attend were full. Bummer.
The full conference starts today, and I'm looking forward to hearing from Mark Batterson (I didn't know he'd be here!) – he's the pastor of National Community Church in Washington, D.C.
Here are some things I'm hoping to glean from the next few days;
Some new relationships with church leaders across the U.S.
Fresh insight, encouragement, and wisdom related to our church
Tools and resources for community development and impact
Spiritual refreshment
Personal conversations with some of the guys that I've followed for a while
On this day...
Latest posts by Jeff Noble
(see all)