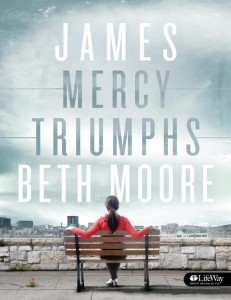 I concluded the last day of the Bible study of the book of James by Beth Moore this morning. It's usually bittersweet. I love the structured and guided approach to studying and immersing myself in scripture. I'm also wondering where God will lead me next into His glorious and soul-satisfying scripture.
She used two quotes worth sharing in her final day:
"…this brusque but bracing book 'finds us,' drives us from the balcony to the road, and hounds us out of intelletualism, mysticism, and dogmatism into a real, living, existential world where, with a hand on our throats, we are hurled into the moment of decision. Why is this? The answer must be the closeness of Jesus…" (James B. Adamson)
"Who is this tremendous personality who speaks to the whole Church with a voice that expects no challenge or dispute? Who appeals to no authority but that of God, knows no superior but the Lord Himself, quotes examples only from the great ones of the Old Dispensation, instructs, chides, encourages, denounces with a depth, an energy, a fire, second to none in the whole range of sacred literature?" (John Parry)
In my concluding thoughts, I wrote in my book that "I want to diligently, patiently and persistently point people to Jesus and His truth – like James. I want to make them so uncomfortable with status quo religion that they embrace a relationship of trusting action with Lord Jesus."
That's our James.
On this day...
Latest posts by Jeff Noble
(see all)