I'm off for Glorieta, New Mexico Friday a.m. By the time most of you clear the sleep from your eyes, I'll be north of Little Rock. Stephen Weathers and I will be boring each other for the next 10-12 hours, until we stop in Amarillo Friday night.
I've been looking forward to Glorieta all summer. I tried to go last year, but it just didn't work out. Nearly every year I was a campus minister at UAM, we took students to Collegiate Week at Glorieta. It's an awesome, week-long national get-together for collegians, campus ministers and churches that minister to college students. The worship services in the evening are dynamic, and the speakers are deeply relevant to this generation.
I'm exciting about the reunion with old friends who are still doing campus ministry, about being ministered to, about sharing what the Lord is up to in my own life, and most especially about listening to Him as I worship, read, study, share, and make myself available to Him.
I'd ask for your prayers while I'm there. I hope to be doing some writing as well. I'll probably be doing some blogging from the "chuckwagon" – one of the coolest places on earth to drink some java, visit, and enjoy God's presence.
I can't think of a more "annointed" place in my own life than the cafeteria at Glorieta. Really. I'll try to get some shots of it, but it's airiness and window-lit expanse seems to be just the place that God has always met me on early mornings over a cup of coffee with my Bible and journal.
Here's a shot a Caro and I taking a group of students (along with the group at SAU) to Ridgecrest, NC for Collegiate Week a few years back (CW is held at Glorieta and Ridgecrest simultaneously). You might recognize the brunette in the middle of the front row…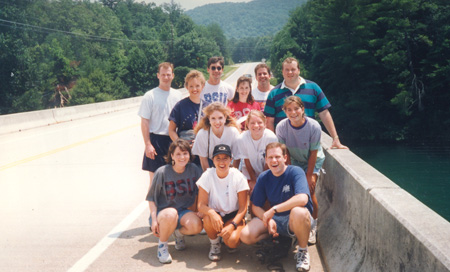 On this day...
Latest posts by Jeff Noble
(see all)