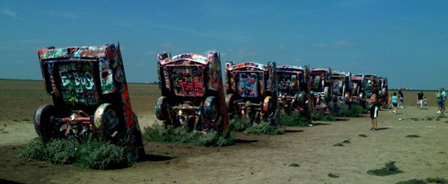 I arrived in Glorieta, NM today at the Lifeway Conference Centers' crown jewel of camps. No other camp compares. I've been to MANY, as far as sheer beauty, options, and a sense of holy expectation is concerned.
I made the trip with Stephen Weathers, BCM Director at UAPB. We stayed in Amarillo last night but didn't get to bed until we'd seen the Bourne Ultimatum with some other folks heading to Glorieta.
Our first stop today was Target (to get a toothbrush for me and some stuff for him). Then we went to Dennys for a Grand Slam before making the remaining 4 hour drive. We had to stop and get some pix of the Cadillac Ranch (just one question about that … Why?)
Then back on the road. We arrived, checked in and I discovered my room had a pond-view. I'll post pix tomorrow. I took a brief nap and then went to the "chuck wagon" – in the process running into some old campus ministry buddies.
Stephen hadn't been feeling well and called to ask me to come back by his room. Come to find out, he'd spent the last 20 minutes throwing up and had intense stomach pains. He was concerned enough to ask me to take him to the hospital. So back on the road we went. That was about 6:00 Mountain time, and I'm still sitting here in the ER waiting room.
It's 10:20. I did slip out for a Quiznos sub and a quick walk-through of Borders Books in Santa Fe. So I'm posting from my trusty iPhone and craving my bed.
Long day. In some ways I'm extremely disappointed that I missed tonight's first session -they're always so awesome. Ah well. I am where I'm slowed to be even if it's not where I want to be. I don't think Stephen really hoped to spend his first night here getting a CT scan.
That's the crazy thing. We both think it was food poisoning but they want to rule out appendicitis.
This is all gonna be a great story about how our best plans and intentions can still be changed in a moment…
Update: I'm back at Glorieta; it's 12:10 a.m., MT. It is appendicitis, and they'll be operating sometime in the wee morning hours. Wow. Crazy.
On this day...
Latest posts by Jeff Noble
(see all)