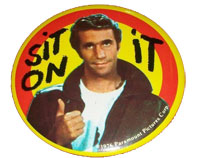 Fonzie from Happy Days used to dispense "Sit on it" as if it were a prescribed medication for overactive teenagers. Spoken in the midst of an exasperating situation, the leather-coated royalty of cool would command, "Sit on it!" and all in earshot would respond immediately.
I began reading Andy Stanley's Visioneering this week, and only two chapters in, I am enjoying it immensely. It's probably the first book on vision-casting that I've read many moons. Of course, I've read dozens – many of them by vision architext Aubrey Malphurs. back in the late 80s and 90s, a corporate or organizational vision was the surefire way to get us all out of the mess we were in.
Things have settled down since then, mostly because company presidents, pastors, CEOs and others realized it wasn't enough to have a pithy vision statement scrawled on marble, letterhead or church walls. Simply having a vision didn't direct, implement, or assist anyone in pursuing a preferred future.
Visioneering was written on the tail-end of the vision rush (compare to the Gold Rush). Authors, motivational speakers, leaders and pastors exhausted the vision vein at the end of the 90s, not because vision had been tried and found lacking, but more often because vision tried us and found us lacking – in energy, commitment, resources, tenacity and old-fashioned follow-through.
Stanley's book offers a much-needed corrective to the jump-on-the-bandwagon folks in chapter 1. Got a vision? he asks. Sit on it.
"The truth is… that a clear vision does not necessarily indicate a green light to begin. In fact, I have witnessed a good many people with what seemed to be God-ordained visions charge out of the starting gates too early. And the result is always the same. Failure. Discouragement. Disillusionment.

A vision rarely requires immediate action. It always requires patience."
The rest of the chapter is devoted to what happens in us and through us as a vision is allowed to percolate. Perhaps the best storage for a vision is a crock pot.
I'll try to share more on vision as I digest this excellent resource. I know many of you have already read the book, but if you haven't pick it up used off of Amazon, and join me in this feast of future thinking.
On this day...
Latest posts by Jeff Noble
(see all)