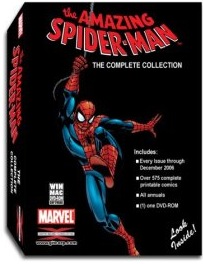 My aunt and uncle sent me an Amazon.com gift certificate. I began to browse my wishlist to get a book or two, but was distracted by a recommendation from Amazon for me.
As soon as I saw it, I knew it would be the perfect birthday gift. It's a collection of all the Amazing Spiderman comic books on DVD (more than 575)! Some of you know that I was and if I had the money would still be a comic book geek. I still have all my Spiderman comics, and I can't wait to review this amazing collection.
Thanks, John and Carolyn!
On this day...
Latest posts by Jeff Noble
(see all)