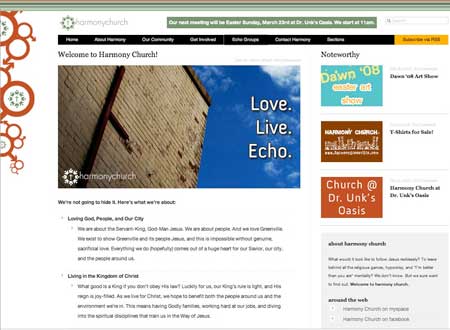 Harmony Church in Greenville, North Carolina has a clean, simple and nicely-designed church website. As a recent church start (within the last three years), it lists the following as their core values:
The Good News – Jesus came for us, died for us, and rose for us. Everything we do centers around Jesus and this message.
Scriptural Authority – The Bible was written to inform us about Jesus and to reveal Him as Savior and King.
Kingdom Community – We serve King Jesus and live as He has taught us to live in community.
Cultural Redemption – Jesus, as Creator, made us creative as well. Therefore, we rejoice in beauty and in art that reflects redemption.
Spiritual Discipline – Because we remain human when Jesus saves us, we must keep ourselves focused on Him through prayer, fasting, and other disciplines.
Led by Derek Brown, I especially like how the leaders of the church actively maintain individual blogs that are easily linked at the bottom of most of their website pages. In addition to that, there's just not a lot of ways to get "lost" in the site, as in other church websites I've been to that seem to key on overload more than simplicity. One thing I'm partial to in a site is a well designed footer, or bottom, of the page. I don't know why, but when I'm scrolling down (if a site has drawn me in…), I like seeing a "strong finish." Most sites just kind of taper off… However, Harmony has great, interesting content and direction in their footer that's appealing.
A quick trip to the "Community" tab reveals a distinct and clear vision: "to make Christ famous." I liked their concise and compelling mission statement that involved the words love, live and echo:
We see a community of people that love God and people, live intentionally in the Kingdom of Christ, and echo this way to others around them.
I think one thing that would be an immense help to them is the addition of a "History" link – perhaps under their "About" tab. I (and I think other visitors trying to learn more about Harmony) would like to know more about how they started, who they're connected with (if anyone) and a little more background on their leaders. What is provided is just not enough to pull me "in." (although I may be a hard "sell")
I really think that they could combine the information under their "Community" and "About" tabs. What's under the community tab doesn't really describe their community – either Greenville or Harmony very well.
Overall, it's a great start for a site, but they need to add enough content for a serious seeker to get the feel of their direction, beliefs, organizational structure, etc. For instance, if I was a young family, do they have any place for kids? It's not mentioned anywhere on their site that I could see.
It's exciting to see where they're headed and would be well worth keeping up with them to see how the plant progresses.
By the way, I love the fact that they're meeting for Easter in a place called "Dr. Unk's Oasis!" 😉
As always…
What do you think about the site?
What are some things you notice/like/dislike?
What are some helpful thoughts and recommendations you have that might help them or another church seeking to do web ministry?
Do you have any ministry sites to recommend for review?
On this day...
Latest posts by Jeff Noble
(see all)