"For one who had died has been set free from sin." (Romans 6.7)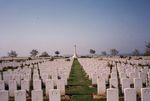 In chapters 5-7 of Romans, the apostle Paul engages the Jewish mind in some heady debate, taking them to task for elevating the law to their master when they should have elevated the grace of God in Christ. He is quick to imagine and respond to objections to this line of thinking, in 6.1 and 6.15. He answers to questions, supposed or perhaps real that he's heard about the teaching of God's grace:
Since abounding grace allows God's glory, does that mean we should sin more and more so that God will get more and more glory?
His response is humorous. "By no means!" he declares. In other words, don't be an idiot. His reasoning is simple. If you look at your relationship with God as a lowest common denominator, as in what can I get away with?, then you are still a slave to sin and not beholden to grace. You're still in control of your life, looking to receive only what benefits you from God. You're charting your own destiny, and you have not yet considered that God's plans for your life are immensely superior to your own.
Let me paraphrase Paul: "You have not died yet."
The clear teaching of the New Testament in relation to our progressive growth in and understanding of God in Christ is that we must put to death our "old selves" – the sinful part of us that yearns for self-satisfaction, self-sufficiency, and selfishness. Jesus taught his disciples that "if anyone would come after me, let him deny himself and take up his cross and follow me."
Many "Christians" today are attempting to mouth obedience rather than live it. They have not yet put to death their old ways of living, thinking, emoting, and reacting. It's a daily dying for us.
Paul answers a second question that opponents to grace had:
Since grace covers our sin, shouldn't we sin (and enjoy "life")?
Again, notice Paul's reponse in 6.15: "By no means!" Paul asserts that while grace does indeed cover our sins because of Christ's righteousness, when we do sin, we're in a sense presenting our arms and legs to the shackles all over again. We're slaves that have been set free from sin by Christ's sacrifice, but when we deliberately choose to sin, we go back to our old, cruel master who fastens us back up in irons to serve him again.
So the question of the day is simply, "Have you died yet?"
I have been crucified with Christ, and I no longer live, but Jesus Christ lives in me. The life I live in the body, I live by faith in the Son of God who loves me and gave Himself for me. (Galatians 2.20)
On this day...
Latest posts by Jeff Noble
(see all)