I am completely sold on hellotxt.com. I've been using it for the past three days, and have had no issues with it at all. It does exactly what it says. With one entry, I can update ALL of the following services with a single click: Twitter, Pownce, Facebook, Jaiku, LinkedIn, Tumblr, and Plaxo.
That's pretty amazing! Gone are the days of updating Facebook when I happen to be on it (which is more and more these days) and a random Twitter from my cell while I'm on the road. Now I can send the same status update to all services (if I wish). The only thing that is a small hitch is for my Tumblr blog which I have set to import updates from many of these. Unfortunately, now it means that the same status is duplicated for them. Where before my Facebook status was different from my Twitter status, now they're the same (unless I choose to simply send it to a specified selection of the above services rather than all of them).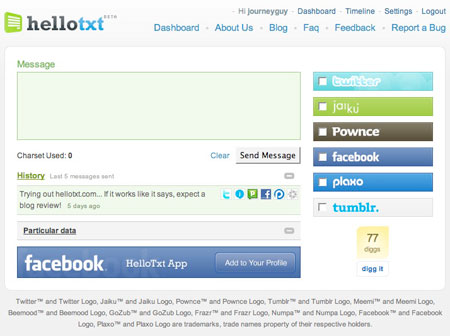 I can heartily and highly recommend this fantastic service!
On this day...
Latest posts by Jeff Noble
(see all)