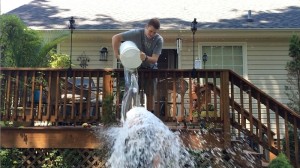 I was called out by Georgianna Mann over on Facebook (another reason why I should use Google+ more) to do the Ice Bucket Challenge for ALS (Lou Gehrig's Disease). Basically, you dump a bucket of ice water on your head, give, and call out three others to do the same.
Some of you may wonder if it works… Consider this from the ALS website:
(August 16, 2014) —Today, The ALS Association announced it has surpassed $10 million in "Ice Bucket" donations. Specifically, as of Saturday, August 16, 2014, The ALS Association has received $11.4 million in donations compared to $1.7 million during the same time period last year (July 29 to August 16). These donations have come from existing donors and 220,255 new donors to The Association.
Here goes:
Oh, and if you want to see Martha, Justin and Jimmy do it, go here.
On this day...
Jeff is the pastor of Northstar Church in Blacksburg, Virginia. He grew up in Arkansas, loves fantasy football and is an Apple fan boy. Follow him on Twitter or Instagram @journeyguy.
Latest posts by Jeff Noble (see all)