It was one of those sublime moments of life. I was at Mazzio's eating dinner with the Wegley's (Mark & Angela) as a sendoff party for their kids, when Sam came in and said Caro wanted to show me something she'd just bought from a garage sale. I groaned. I envisioned a couch made from chamille or some old wooden thing. I just didn't know.
When I got outside to the car, I was handed an AT&T bag. Caro began circling like a hawk, with a camera. I knew something was up, and my little brain raced. Surely not.
Surely so.
Inside the bag was an Apple iPhone. I pretty much freaked out.
In my euphoria, I ripped off my clothes and began to dance naked across the Mazzio's parking lot. Or not.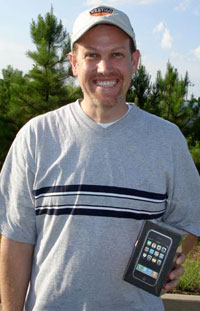 Caro informed me over my excitement that my dad had purchased the iPhone for me. Wow. It was better than Christmas. (Actually, after visiting with him on the phone – the first call I made – I found it was Christmas, and birthdays for several years…) Also, in my initial enthusiasm and overflowing gratitude, I made a rash commitment that I'll have to live up to… not to put Dad in the nursing home.
It's amazing what one will do in a moment of emotional mushiness. 😉
By the way… all the hype over the iPhone… it's all true. It works EXACTLY like you see on Apple's site and in the commercials. The form factor is extremely small and comfortable. It's much easier to work than my Treo 650 was. It's just… well, Apple.
I stand by my earlier post that predicted the iPhone will revolutionize the cell world like the iPod did the music world.
On this day...
Latest posts by Jeff Noble
(see all)