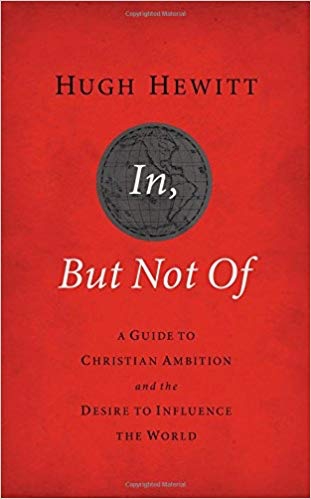 Taking his cue from Jesus' revolutionary teachings about how His followers are to engaged with the world without being absorbed by it, Hugh Hewitt written a book that falls into my recommended "must-read" list for Christians today. In, But Not Of – A Guide to Christian Ambition and the Desire to Influence the World is full of deeply insightful and immensely practical advice, Hewitt writes this book as "a guide to Christian ambition and the desire to influence the world."
The chapters are remarkably short and an easy, though profound read. Hewitt writes as an influencer par excellence. Having served with Nixon and now a regular commentator on news shows and the host of his own show (The Hugh Hewitt Show), he is also a professor law at Chapman University School of Law.
Just a few of the chapter headings will give you insight into just how helpful and direct his writing is:
Assemble the Right Credentials
Learn How You Got Here
Master at Least One Area of at Least Passing Interest to Powerful People
Know What You Don't Know
Disclose the Weak Points in Your Argument and Deal with Them
Fill the Gratitude Gap
If you have any influence over high school students or collegians, buy them a copy of this book! Today! It will be a valuable source of encouragement and insight, especially for the Christian young adult who is serious about being used by God to be salt and light in our world.
On this day...
Latest posts by Jeff Noble
(see all)