With a nice little message of "Thanks for waiting," the iPhone Dev Team posted the new tool that will unlock, jailbreak and activate iPhone firmware 2.0 this afternoon!
The website iphoneunlockstatus.com provided this handy-dandy overview to know what you're getting into with the new tool: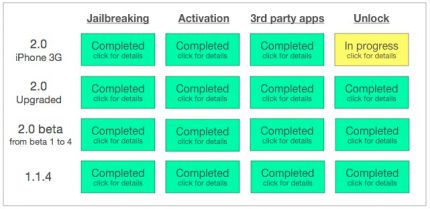 I am downloading it as we speak…
Update (7-19-08, 9:13 p.m.): I downloaded it, and tried to run it. It spun for almost 20 minutes looking for the firmware (which was on my desktop). I was not willing to run the "Expert Mode" until they publish better instructions. There was also a note over at iClarified.com that says that Installer app does not work. That's crazy. How would one install jailbroken apps? Think I'll wait for the morrow.
The Morrow (7-20-08, 6:00 a.m.): iClarified has posted a tutorial for the jailbreaking method. I have still have lots of questions about it and wish there was a FAQ.
Update (4:15 p.m.): Bummer. I can't recommend or endorse this tool for anyone yet. After much anticipation, its use is unreliable. Even after following the tutorial the Pwnage 2.0 tool won't find the firmware (I have to select it manually) or bootloaders (It offers to search the internet for them, but I already have them in the specified folder). Too bad ziphone didn't get in on this project. His tool is so much easier to use for the average user. Unless you're an advanced user, I would advise you to wait for either a better tutorial, better version of this tool, or another tool altogether. At least we know that the first jailbreak salvo has been fired. 
Others will hopefully rush in and clean up what the Dev Team have worked so hard to get out.
Update (7-21-08, 9:15 p.m.): I have successfully jailbroken my iPhone using the new tool (2.01) the Dev Team released yesterday! My error, I think, was not actually putting the iPhone in DFU mode. I didn't know there was a difference until I found this article that described what to do.
On this day...
Latest posts by Jeff Noble
(see all)