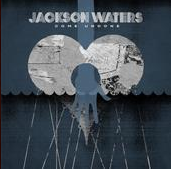 I posted this at MonticelloLive today:
The contemporary Christian band Jackson Waters released its first label-released CD today. Entitled Come Undone, it's being released by Word Records. Monticello native, David Leonard is the lead singer, song writer and plays guitar and keyboard on the album. The band has been together for four years and have been with Word for a year.

Two singles have already been released on the radio, Give Me Amazing Grace and the title cut from the CD, Come Undone.

"It's got something on it for everybody! It's a good mix of style and sound," says Leonard. "We're hoping to get on the road and promote the album."
What I didn't say there is how old this makes me feel. Dave is Rob Leonard's son. Rob and I were campus ministers together at UAM. I was the director of the BCM, while he directed the MBSF. Rob is still there, carrying out a wonderfully effective ministry to collegians. He has not been recognized enough for his tireless commitment to collegians.
Back to Dave. I can still remember him as a kid running around on campus at different ministry events. It's a little surreal to see his band hitting the big time right now. Heck, the closest I've ever been to actually knowing a famous musician is the gals of Point of Grace, whom Caro and I went to school with. Then there's Ben Coulter, who I'm still hoping will allow me to introduce him in his first concert when he makes it big.
But I'm excited for Dave and the Leonards now. Way to go, Dave!
The rest of you, go buy the album here!
On this day...
Latest posts by Jeff Noble
(see all)