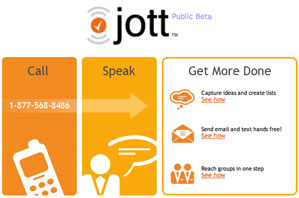 I first learned about Jott in a comment over at the Swerve blog in a post about Twitter. You may have seen that post yesterday. I was intrigued by the idea that by calling a free phone number and leaving a 30 second message (or less), that message would be transcribed and then sent to myself or a contact as an email or text message.
Wow. Could that really work?
So I tried it. Sign up was fast and flawless. My first test message arrived as an email within seconds, word for word, perfect.I have no idea how it's possible. It just works. Kind of like Macs. 😉 It may become one of my handiest productivity tools. We'll see. Gotta go do some Jott-ing.
On this day...
Latest posts by Jeff Noble
(see all)