Waaaahoooo! Yip. Yip. Yip. Yip. Ever had one of those ethereal moments of sublime happiness? Nope? Sorry. But I'm there. Right now. Consider this…
a hot cup of Lipton's French Vanilla black tea
an Apple Powerbook G4 867 purring on your dining room table
a hefty bucket of Juanita's mixed peanut brittle at your side….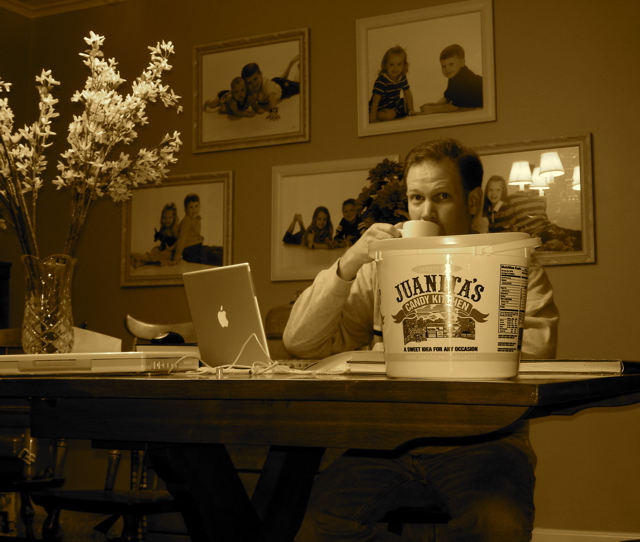 And you get an evening of ecstasy. Wow. Step back and mourn for your average evening. Me? I can hear angels singing. Aaaah.
OK, got that out of the way. Sorry for the moment of gloating bliss. If you've been having a bad day, well, suck it up. I'll probably have one tomorrow. Let me have my evening of sheer delight.
The Anti-Blogger
I hooked up with a great friend the other day. In Arkadelphia. A converted Reddie… That's all the hint you're gonna get. OK, so he looks like Woody Harrelson, but no more. Anyway, over latte' from Thrio's, he informed me that he had actually read my blog, but had just about decided that blogs, for the most part, were a bunch of hoo-ha.
I was a little disappointed that my blog had not caused heaven to descend around him and completely transform his little, meaningless life, but I didn't let on.
"What do you mean,?" (you anti-blogging Nazi, I thought).
He proceeded to tell me that it just appears to him that in a place where people have actually very little human contact… in just such a place, people would be the most real, authentic, and willing to share their failures… since there wasn't someone they had to look at when pounding a keyboard. He explained that most of the blogs that he'd seen were all a little, well, (in my own words here) – Brady-Bunchish. Just a little too happy. Perfect family pictures, inane dribble about one did with one's day, about what one ate (or didn't), etc.
He just didn't see the point. His feelings echoed that of my sister, who upon looking over my blog, attempted to post a comment along the lines of "What the hell is this?!" I still laugh about that.
And with that being said, for my friend the anti-blogger, I thought I might post just a few thoughts to make his day better…
My incredible wife of 13 years now had her third battle with Hodgkin's Disease this year (the first was in 1991, and the second was in 1995)… For a period of 6 months, she had chemo, and at one 4-week period, drove to Little Rock (an hour and a half from here) 5 days a week for treatment. We have a ton of medical bills from all this that we have no idea how we're going to pay… Caro is in remission (again!)
My design business that was started in August of 2003 to help us financially while we started a new church is about as thriving as bacteria in a tub full of bleach.
Our church that so many seem to think is "cutting edge" and "contemporary" and dynamic and all that jazz… well, it's OK. We're just ordinary folks trying to live out a fresh expression of discipleship in our area. But it hasn't grown much (if at all) in the past 6 months, and we've had to tap our savings this month to pay what little staff support we do receive…
My own personal foibles and weaknesses are so many that I wonder how in the world I can even influence a possum, much less a thinking person, toward the Lord Jesus.
I'm losing more and more hair on the back of my head… dangit.
I'm 37 years old… and what the heck am I doing?…
Get the drift?
I hope this made all you anti-bloggers out there delight in my dismay and doubt. I'm only a fellow struggler. So imperfect. Yet I am earnestly convinced in the existence of a perfect and loving God. I DON"T have all the answers. I'm NOT thrilled about our financial uncertainties. Things aren't all good at the Noble's. Yet, here I am…
Choosing to Blog Joyfully
The things I write about, well, he was right. I choose to blog about things that are uplifting, sometimes insightful, and perhaps challenging. I don't like to focus on what's not right. Heck, I worry about that enough in my head. Why make you miserable too?
But here's the deal… just as Paul wrote to the disciples in Thessalonica… "in spite of severe suffering, you welcomed the message with joy…" (1 Th 1.6), so too, I choose joy. IN SPITE OF what I don't understand, IN SPITE OF cancer, IN SPITE OF sad checkbooks, IN SPITE OF… you name it.

[In fact, I preached a message somewhat similar to this last night at Monticello's community Thanksgiving service at First Baptist… You can hear it on Journey's website, if you'd like.]
But here I am… life is real, raw, and confusing sometimes. Things AREN'T perfect. Not situationally, at least. But deep down… I am truly, really, honestly, JOYFUL. I love life. I am able to endure all hardships – mystically, mysteriously, really – I believe, because of my confidence in my forgiveness. Being forgiven, freed, and given purpose enables a person to embrace life even when there are sharp edges.
So.
Right back atcha, you anti-bloggers, you! 😉
I'm going to keep sitting here tonight, popping my brittle (the cashew mix is the best!), drinking my tea… (it's cold now because I've been typing to you the last several minutes… time for a refill), and enjoying my Mac.
Crunch, crunch, sip, sip, type, type. Life is good. in spite of.
On this day...
Latest posts by Jeff Noble
(see all)