I was trying to catch up on some podcasts today and was listening to Neat Little Mac App's review of K.I.T. (Keep It Together). One cool thing about NLMA's podcast is that while not quite a vidcast, they do use occasional screen shots of the program they're reviewing so you can see what they're talking about.
Then I visited and saw his advertisement for Yojimbo which seems to promise the same thing.
I downloaded both software packages – Yojimbo ($39) has a 30-day trial, K.I.T. ($24.95) only a 15-day. So, for the next 15 days, I'll attempt to review both packages. On the outset, they look nearly identical, as you can tell by the screenshot below.
Got any great Mac software that you use consistently that we need to know about?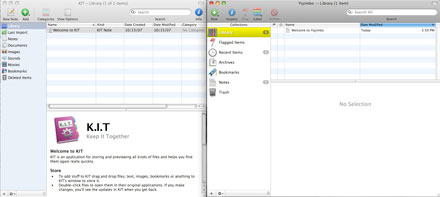 On this day...
Latest posts by Jeff Noble
(see all)