Update (5/14/09): Kris Allen is now in the finals! Go get your t-shirt today!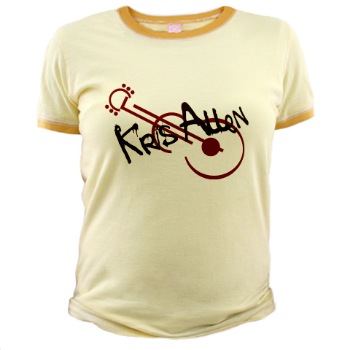 Kris Allen is an Arkansan who is on this season's American Idol show. He's made it to the Top 12, and he's a great guy. He is a worship leader in his church, and so my wife and kids and Lee Anne James (who comes over every Tuesday to watch AI with them) have been voting for him faithfully.
When Carolyn heard that some of his friends had started a t-shirt design contest, she rushed to her iMac and churned out a t-shirt design one evening. She found out this evening that her design was picked and will be the official Kris Allen t-shirt for his fan club! How cool is that?!
Stop by here and buy one of the shirts. Carolyn gets a free shirt for her efforts. There is no markup of any kind of the shirts, and so no profit is being made off of this. It's just a fun effort to help promote the talents of a very worthy AI contestant.
Way to go, wifey! And good luck, Kris!
On this day...
Latest posts by Jeff Noble
(see all)