Jeff Kapusta, leader of Lifepoint Church, has been writing a series about "Hindsight." It's things that he would have done differently (or is glad they did) as they church started. His third point was the genesis for this entry – combined with the fact that our church is currently in process of growing into better team-based leadership.
I can understand why it's a challenge (and even an albatross) for many leaders, especially in the church, to share leadership. Consider the following:
Sharing leadership means you're not the end-all, be-all.
Sharing leaderhip takes more time.
Sharing leadership requires you to identify, train, and hold accountable other leaders.
Sharing leadership means that you no longer "touch" everyone's life. (Highly relational people resist shared leadership for this main reason.)
Shared leadership requires more prayer and work at unity, vision protection, and diligence.
Shared leadership makes you get out of your "comfort zone" of easy skillsets and practices. (i.e, Many Lone Ranger Leaders are immensely talented and skilled. They can get things done quicker and probably more efficiently than a team of folks. It doesn't require a lot of work or effort to accomplish some tasks for them. Therefore, they think, "It would just be easier and faster to do the job myself.")
There are dozens of other reasons, obviously, but these came to mind immediately.
You've probably heard to acronym before of T.E.A.M. – Together Everyone Accomplishes More. However, let me add another reason I believe shared leadership is essential for a growing organization, group, or church.
Shared leadership is biblical.
Yup. For instance, as God called Moses to lead the nation of Israel, Moses initially did pretty well getting everybody out into the sand. It was a high-task time, and everyone unites around a common task or vision. His vision was pretty much, "Let's get the heck out of Egypt." "Yaaaaaay," was everyone's response. So they went.
However, after that time of high-energy, task-orientation concluded, the day-to-day chore of life, ministry, and leading God's people settled in. Moses' father-in-law was sitting on a rock one day watching Moses sweat it out as he attempted to single-handedly lead and arbitrate matters for the people. Between slurps of his Big Gulp and chewing on manna, Jethro (yep, it's true) said,
"Moses' father-in-law replied, 'What you are doing is not good. You and these people who come to you will only wear yourselves out. The work is too heavy for you; you cannot handle it alone. Listen now to me and I will give you some advice, and may God be with you. You must be the people's representative before God and bring their disputes to him. Teach them the decrees and laws, and show them the way to live and the duties they are to perform. But select capable men from all the people—men who fear God, trustworthy men who hate dishonest gain—and appoint them as officials over thousands, hundreds, fifties and tens. Have them serve as judges for the people at all times, but have them bring every difficult case to you; the simple cases they can decide themselves. That will make your load lighter, because they will share it with you.If you do this and God so commands, you will be able to stand the strain, and all these people will go home satisfied.'" (Exodus 18.17-23, emphasis mine)
Some might argue that even in creating woman for man, the Lord was signaling that we all need someone else to work with. He called the woman a "helper" in Genesis. Interesting that Jesus also referred to the Holy Spirit as our "Helper" in John. Women, please don't get the big head…
While it's hard to find a "Thou shalt share thy leadership responsibilities…" in the scriptures, the common praxis of godly leaders throughout is found expressed in the ability to identify and train leaders for God's people.
You see the identification and equipping of leaders in many places, including Acts 14.23 and Titus 1.5 as growing bodies of Christ needed their own leaders and leadership teams. The elders of the church were responsible for spiritually shepherding the people and helping equip them to serve… each other and all in need.
Other great examples of teams and sharing leadership are evident throughout the scriptures. David and his "mighty men." (Sounds like a superhero group). Jesus and his disciples (perhaps one of the most powerful examples a leader who could have done it all but willingly chose to identify, train, and equip other leaders for a larger impact). Missionary teams in Acts. The apostolic leadership in Acts…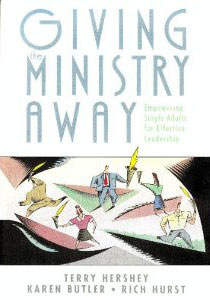 I was reminded of one of the best books – practical and conceptual – I've ever read when responding to Jeff's entry. Giving the Ministry Away, by Terry Hershey, is actually written for single adult ministers, but it applies to all levels of church leadership. When I was on staff at a large church in the Dallas area as the minister to singles and young adults, I read it and began to see almost immediate fruit from the implementation of shared leadership.
Any organization that continues to rely solely upon the ingenuity of one inspirational leader may indeed become a great one… but only until that leader is in leadership there. How many companies, churches, and organizations have you seen in your lifetime fall after the exit of a dynamic Lone Ranger Leader (or Superhero leader, as Barna calls them in his book The Power of Team-Based Leadership)?
The importance of giving the ministry away and leading others to serve is found in Ephesians 4:
"It was He who gave some to be apostles, some to be prophets, some to be evangelists, and some to be pastors and teachers,to prepare God's people for works of service, so that the body of Christ may be built upuntil we all reach unity in the faith and in the knowledge of the Son of God and become mature, attaining to the whole measure of the fullness of Christ."
Scripture urges church leaders to realize that their primary responsibility is to take Christians where they are and to lead them into maturity, equipping them to lead and serve in the strength of the Holy Spirit, through the gifts He provides. It's an awesome task, and a time-consuming mission. However, it enables us all to say at the end of the day, "to God be the glory; great things He has done!"
Yet another reason why it's crucial to lead through teams. Do the hard work. Give the ministry away.
On this day...
Latest posts by Jeff Noble
(see all)