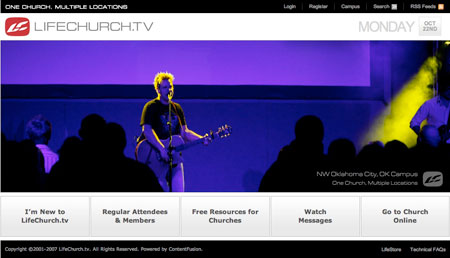 How did a small, church plant in Oklahoma go national in the past ten years? Such is the story of Life Church, now known as LifeChurch.tv. From its beginnings in Edmond, Oklahoma, Life Church now has twelve different campuses across the nation (including Arizona, Texas, Tennesse, Florida and New York.
Admittedly, not all of these campuses are new church starts. Several of them involve existing churches coming into the LifeChurch.tv network.
However, this year Lifechurch.tv launched what it calls "Second Life," which is a fully interactive, online church. Yep. You can do church online… Hooboy.
According to their website, "Currently LifeChurch.tv is hosting nearly 20,000 people every weekend across all its campuses during 47 worship experiences."
Life Church is a part of the Evangelical Covenant Church denomination, and it has a well-expressed, though abbreviated, set of core beliefs:
The Bible is God's message to us (2 Timothy 3:16)
Jesus Christ changes lives (John 3:3, 14:6)
The church is a spiritual family (1 Corinthians 12:12-13)
A Holy Spirit empowers us to live for God (Galatians 5:25)
Freedom comes from Jesus Christ (John 8:31-32; Galatians 5:1)
I'll admit… there's enough there to intrigue me and want to know more about Life Church. Do you realize that there's not an Evangelical Covenant Church in Arkansas? Neither is there a Life Church here… yet.
On this day...
Latest posts by Jeff Noble
(see all)