Sam is addicted to this television show, but I am going to be living it this weekend.
Tomorrow, Sam and I will head to Ferndale, Arkansas which is the site of the state's 4H Shooting Sports Competition held at the C.A. Vines 4-H Center which is an amazing, first-class complex. I'll spend Friday and Saturday watching Sam shoot everything from muzzle loader to bow. Carolyn went with him last month, and I'm honestly looking forward to it.
However, you need to be aware of the mindset of the folks I'll be spending the next few days around. The pictures below are silent testimony (or testosterone, whichever)…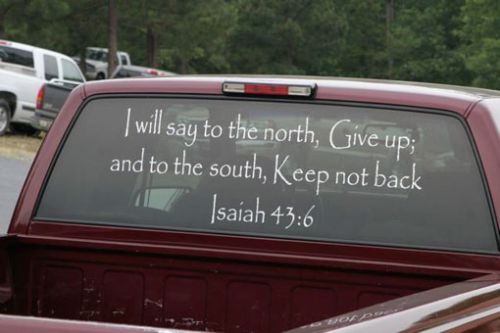 The shirt says:
"Gun Owners of America

If guns kill people, then…

– pencils misspell words

– cars make people drive drunk

– spoons made Rosie O'Donnell fat"
Hoo boy. I don't think I'm going to be showing off my iPhone around this crowd; nor do I think they'll be impressed that I have shot more basketballs in my life than guns.
However, Sam loves it, and for that matter, I'm just gonna enjoy cheering him on and enjoying his enjoyment. Isn't that what part of growing is about sometimes? Learning to rejoice with those who rejoice and sometimes weeping with those who weep?
The 4H program has actually been an incredibly positive experience for our family. It has taught responsibility, team work, and gun safety. The guys who run it locally love the kids and take time to make sure each kid is learning and enjoying themself. You can read the article about it at MonticelloLive.
If I don't show back up at Journey on Sunday a.m., I'd appreciate someone sending a search party.
On this day...
Latest posts by Jeff Noble
(see all)