Each year, I post our Christmas card and its text to share our joy in Christmas wishes with the blogosphere. Here's our 2016 card.
This morning as I post it, I've eaten breakfast, had a shower and the kids are still not up. You know your children have grown up when they no longer beat you to the living room on Christmas morning. So here we sit, waiting on our kids for the first time in our lives for Christmas. Carolyn wrote this year's card, so enjoy and…
Merry Christmas!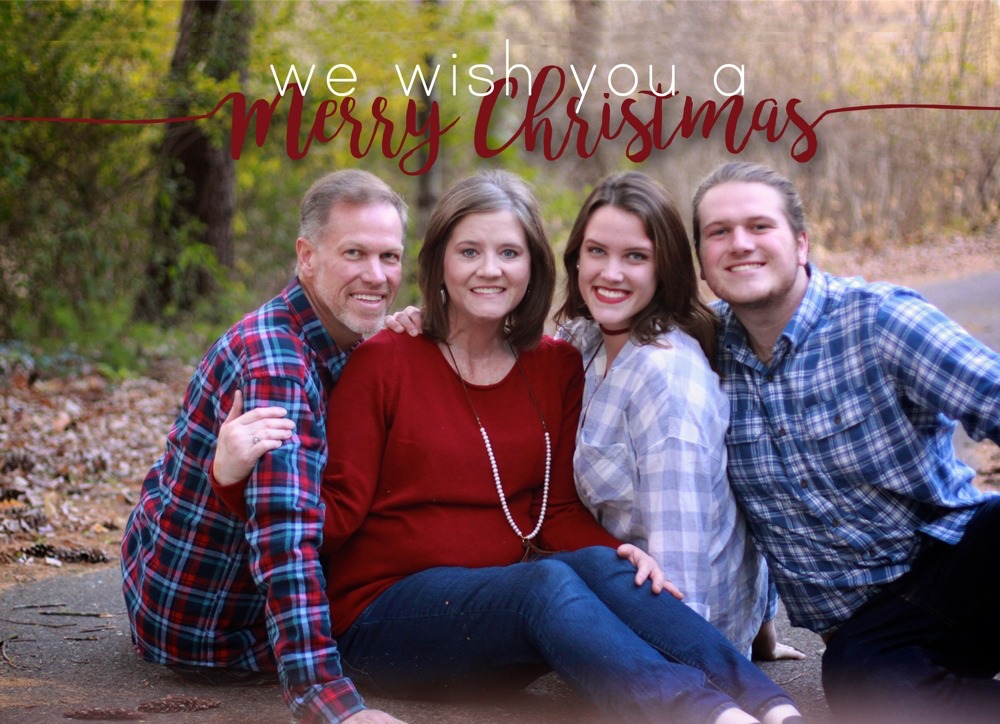 Jeff is officially a runner. Although he says he is not a runner, he runs every other day, rain or shine. The fall colors held on longer than usual this year. So running on his favorite Huckleberry Trail was the place to be. You can also find him at the movie theater on Sunday or Tuesday evenings with his promotional popcorn bucket he can fill up for $5.00. He still enjoys reading, video games, Settlers of Catan, ping pong and corn hole. He and the church staff take breaks
often to challenge each other in corn hole. This is all a great diversion for the responsibilities
of leading Northstar Church. Northstar is such a blessing to Jeff and our family. The staff is incredible and have become close friends. We still meet at Blacksburg Middle School with two morning services where college students, families, graduate and professionals come to worship.
It is an honor to be part of such a group. Northstar plans to build on our purchased land soon. The projected date to be in the new building is December 2018. Send prayers and money this way!
Carolyn is still working in the Guidance Department at BHS. She is trying not to focus on this being her last year of having a kid there. She keeps busy with projects she finds at the new house. We were able to buy a different house in Blacksburg in April. It was a whirlwind of events. We sold and bought a house in less than 48 hours. God once again showed us how He loves us and is in control. Carolyn says she would hug her house if she could. It has been such a blessing, fun to decorate, great for entertaining and hosting friends and family from afar. Come see us! It sits out on the edge of Blacksburg on the side of a hill. So the view is incredible. In the summer, the fireflies were amazing. This fall the colors on the view of the Appalachian Mountains were breathtaking. We are looking forward to our first snow knowing that the view will be beautiful as well. She continues to have good check ups and feels great, except for the aches, wrinkles and gray hairs of getting older.
Sam is a sophomore in Charlotte, NC. He took classes at the community college in Charlotte this fall in order to begin gaining residency in North Carolina. He works part time at Sun and Ski. He lives in an apartment on the edge of UNC Charlotte with his friends. He has proudly named his place "Brotel". Not to be mistaken as brothel. He and his roommates have a ping pong table as their dining room table. Which is good because Sam can practice for when he comes home to play Jeff and Adelyn. The competition is fierce. He is now a leader in Young Life. He has dreamed of this for a long time. He leads at Butler High School in Charlotte and loves every minute of it! He worked at Camp Ridgecrest for Boys in Asheville, NC, this summer. His nickname Bear, and his manbun fit in nicely. He spent the summer with a cabin of 10th grade boys. He had a new crew every two weeks. He also was a lifeguard there and taught different classes like guitar and hiking. The focus was discipleship and growing your relationship with Christ. His devotion and service to the Lord is infectious. We are proud of his commitment to Jesus and sharing His love with others.
Adelyn is a senior at BHS. She has evolved into quite the leader this year. She is president of
National Honor Society and Fellowship of Christian Athletes. So that keeps her busy with service activities and meetings. She also has the privilege of leading worship at Northstar several times a month. We are so proud of her dedication to all she has committed to. Speaking of committed, she has  applied Early Decision to Christopher Newport University in their Leadership and Honors Programs. She is patiently (sort of) waiting for December 15 when she will hear from CNU. She continues to maintain her diabetes. She handles it like a pro and her A1C continues to be great because of her determination and lifestyle. She worked as a lifeguard again this summer. She also helped with an elderly down syndrome lady a couple times of week this fall. She loves spending
time with the girls in the Northstar youth group. Our new house is a great spot for sleep overs. We now have a ping pong table.  Every night you can find her there beating Jeff in a match.
On this day...
Latest posts by Jeff Noble
(see all)