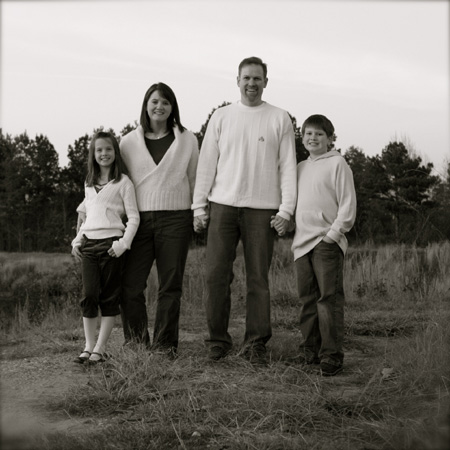 I don't know how I got out of it, but Carolyn wrote the Christmas letter this year and did a great job! Make sure to tell her! (That way I can get out of more letters in the future.) It's been a year of growth, learning and discovery. We're grateful more than ever for friends, family, and most importantly, for the all-gracious presence of our Lord Jesus Christ. He has been our Rock this year in some difficult times.
We are hoping that you too, whoever you are and however you might have stumbled upon this little blog, will seek to discover for yourself the tender might of the God who announced good news of great hope for all people. Merry Christmas, everyone!
The 2007 Christmas letter…
Jeff has been blessed by two great gifts (or toys) this year. A good friend gave him his white Honda moped. Everyone loves it! When you fill it up with gas each month for $2.91 yo suddenly do not care what people are saying about you. "Ghost," as he proudly calls it, has been a blessing.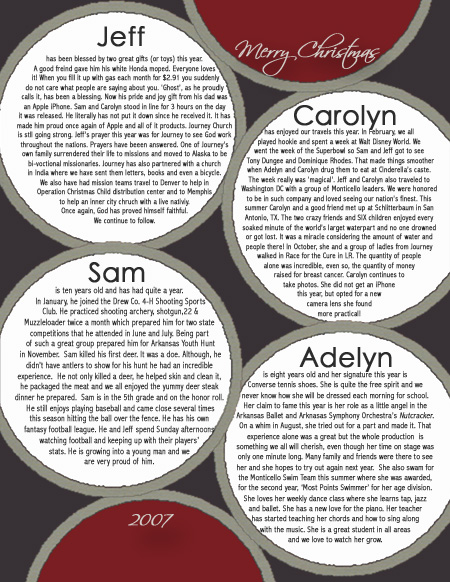 His pride and joy gift from his dad was an Apple iPhone. Sam and Carolyn stood in line for 3 hours on the day it was released. He literally has not put it down since he received it. It has made him proud once again of Apple and all of it products.
Journey Church is still going strong. Jeff's prayer this year was for Journey to see God work throughout the nations. Prayers have beeen answered. One of Journey's families surrendered their life to missions and moved to Alaska to be bi-vocational missionaries. Journey has also partnered with a church in India where we have sent them letters, books and even a bicycle. We also have had mission teams travel to Denver to help in the Operation Christmas Child distribution center and to Memphis to help an inner city church with a live nativity.
Once again, God has proved himself faithful. We continue to follow.
Carolyn has enjoyed our travels this year. In February, we all played hooky and spent a week at Walt Disney World. We went the week of the Superbowl so Sam and Jeff got to see Tony Dungee and Dominique Rhodes. That made things smoother when Adelyn and Carolyn drug them to eat at Cinderella's caste. The week really was 'magical'.
Jeff and Carolyn also traveled to Washington DC with a group of Monticello leaders. We were honored to be in such company and loved seeing our nation's finest. This summer Carolyn and a good friend met up at Schlitterbahn in San Antonio, TX. The two crazy friends and SIX children enjoyed every soaked minute of the world's largest waterpark, and no one drowned or got lost. It was a miracle considering the amount of water and people there! In October, she and a group of ladies from Journey
walked in Race for the Cure in LR. The quantity of people alone was incredible, even so, the quantity of money raised for breast cancer.
Carolyn continues to take photos. She did not get an iPhone this year, but opted for a new camera lens she found more practical!
Sam is ten years old and has had quite a year. In January, he joined the Drew Co. 4-H Shooting Sports Club. He practiced shooting archery, shotgun, 22 &
Muzzleloader twice a month which prepared him for two state competitions that he attended in June and July. Being part of such a great group prepared him for Arkansas Youth Hunt in November. Sam killed his first deer. It was a doe. Although, he didn't have antlers to show for his hunt he had an incredible experience. He not only killed a deer, he helped skin and clean it, he packaged the meat and we all enjoyed the yummy deer steak dinner he prepared.
Sam is in the 5th grade and on the honor roll. He still enjoys playing baseball and came close several times this season hitting the ball over the fence. He has his own
fantasy football league. He and Jeff spend Sunday afternoons watching football and keeping up with their players' stats. He is growing into a young man, and we
are very proud of him.
Adelyn is eight years old, and her signature this year is Converse tennis shoes. She is quite the free spirit and we never know how she will be dressed each morning for school. Her claim to fame this year is her role as a little angel in the Arkansas Ballet and Arkansas Symphony Orchestra's Nutcracker. On a whim in August, she tried out for a part and made it. That experience alone was a great but the whole production is something we all will cherish, even though her time on stage was
only one minute long. Many family and friends were there to see her and she hopes to try out again next year.
She also swam for the Monticello Swim Team this summer where she was awarded, for the second year, "Most Points Swimmer" for her age division. She loves her weekly dance class where she learns tap, jazz and ballet. She has a new love for the piano. Her teacher has started teaching her chords and how to sing along with the music. She is a great student in all areas and we love to watch her grow.
On this day...
Latest posts by Jeff Noble
(see all)