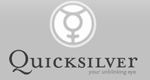 If you're a Mac user and haven't yet discovered the simplicity and ease of Quicksilver, then you might as well convert back to a PC… No, not really. That would be ridiculous.
However, I've found that Quicksilver is a can't-live-without piece of software (and it's free!) for the Mac. In just a quick keyboard shortcut (mine is command-space), I can launch any program, find a contact, schedule an appointment, and generally do anything! It's much better than Mac's built-in feature.
Go download and try it out today! I've got mine set to load with my Mac, so it's always running. You can do this by going to System Preferences->Accounts->Login Items and then clicking on the "+" icon below. Navigate to your applications folder and click on Quicksilver. (download and install it first) Voila! You're ready to roll!
There's also some great video tutorials here!
Update (9/8/07): There's a great list of essential "hacks" for Quicksilver here on Engadget.
On this day...
Jeff is the pastor of Northstar Church in Blacksburg, Virginia. He grew up in Arkansas, loves fantasy football and is an Apple fan boy. Follow him on Twitter or Instagram @journeyguy.
Latest posts by Jeff Noble (see all)