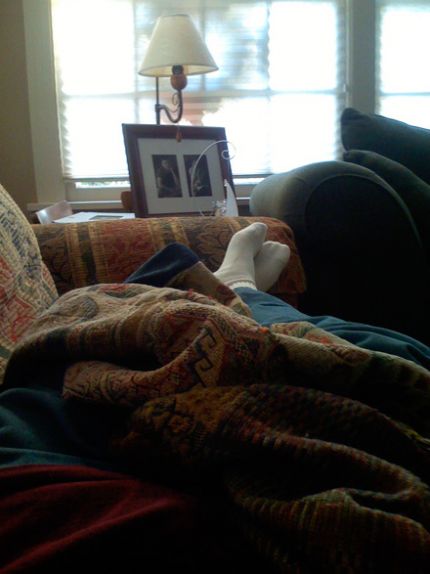 Aaaah. Glorious nap time…
I don't remember exactly when this sacrosanct experience entered my life as a priority, but I am hooked. Sunday afternoons have become around our house enforced unconsciousness. Our kids are warned to not disturb us.
Usually, we return home from a Sunday lunch out with friends from church, and the race begins. Whoever jumps into comfy clothes first is awarded with the most comfortable napping location. The one place I like least is where I most often end up… our God couch.
Yep. We have a God couch.
You see, a few years ago, Caro and I were in a local furniture store, and she was drooling over one of the couches there. It was beyond our budgetary grasp, so the attendants mopped up the saliva, and we put it out of our minds.
However, a few days later, we were called and informed by the store owner that someone had bought the couch for us! We were stunned. Caro was ecstatic. It has since become known as our God couch, because our generous benefactor still remains somewhat of a mystery. Since Scripture says that "every good and perfect gift comes down from above," we have simply come to call it our God couch.The only thing about the God couch is that it's corduroy. Do you know how hard it is to get those parallel lines off your face when you wake up from a nap only 20 minutes before a meeting? I've attended many a Sunday afternoon get-together as a marked man – all because Caro beat me to the bed for nap time. 
Carolyn took Adelyn to Little Rock this past Sunday for practice in the upcoming Nutcracker-ballet-thingy, and Jeremy came over to watch the games with Sam and me. It wasn't long before I was out cold, and Jeremy was left to fend for himself on the God couch. We had failed to adequately warn Sam about being quiet so that we could peacefully fall into nirvana while watching football.
Jeremy's voice woke me (he's single, by the way)… "SAM, CAN YOU NOT BE QUIET?!!!
""Welcome to my world," I mumbled sleepily… and turned over.
On this day...
Latest posts by Jeff Noble
(see all)