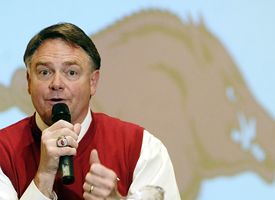 I must refrain from all the Nutt-Dick jokes that come to mind as I write this entry. With Coach Houston Nutt demanding that Casey Dick start for the Razorbacks in the last four games, I just have to call it like I see it… nuts! After undefeated starts from the #1 QB recruit in the nation, Houston promptly benched Mitch Mustain in favor of Dick. Saying that he "saw something" in Dick's play that wasn't present with Mustain's, Arkansas cruised to back-to-back victories over South Carolina, Tennessee, and Mississippi State.
For all those who think I'm crazy, I offer to you the real reasons for the last three wins: 2 Big D's.
Plain and simple.
The quarterback position is a mystical, magical leadership role that inspires a team. Casey ain't even got a wand. The Hogs' loss to LSU was a dismal performance from under center, and yet Houston stuck with Dick the entire game. Earlier, he had said that he would go with "whoever got the job done." Well, it tweren't Dick.
The Razorbacks, I'll certainly proclaim, have been a stellar team this year. Too bad they haven't had a stellar coach. With profound talent on both sides of the ball, Nutt has found ways to NOT lose this year time and again. Saturday's loss to LSU was not really an LSU victory. It was Nutt's Christmas gift to the Tigers.
Let's hope he goes to get a real job next year so that the Hogs can move on and move up.
By the way, I ain't crazy.
On this day...
Latest posts by Jeff Noble
(see all)