I sent my mom an email this morning in response to her retirement reception that my family attended ysterday. She concluded a 33-year tenure at Pulaski Academy as the lower school librarian (she usually corrects me and says "media specialist" since she has a Master's in that area). However, I and all the students whom she's touched over the years simply know her as the "librarian."
As I grazed the snack table and visited with the dozens of new faces and old friends in attendance yesterday to honor her, I was moved by the tribute to a life well lived (Not that she has ceased living well!). However, the immense gift of learning and a love for reading prompted me to dash off these lines to her in an email this morning:
Mom, it was an awesome tribute to your life of teaching, love for learning and reading. You deserved it all and more. I was nervously contemplating a "speech" when you suddenly called Amy up there to help you. I didn't know if I was going to be next, but I would have said…

"My mom instilled in me so many things. First and foremost she and my dad helped lead me to have a love for Jesus Christ. That was the first and best gift to me. However, I count my love for reading as perhaps my mom's second greatest gift to me. It is through reading that I am most influenced. In reading, I learn, discover and am further shaped into the person that God has created me to be. Especially as I immerse myself into the depths of God's Word.

However, it is also in reading that I laugh, swim, explore, fight off pirates and bad guys, solve crimes, and boldly go where no man has gone before… until I'm interrupted by the telephone or one of our kids. The joy of losing oneself in a book or verse is an indescribable gift that a person can never take lightly. For that I am sure, I will be eternally grateful."
As I reflected more this a.m., I know it was a privilege for me to be able to attend P.A. Mom's employment there made that possible; our family would not have been able to afford me and my sister's education there otherwise. Having your mom work at your school from first through twelfth grades presents certain challenges. For one, I was never sent to the "principal's office." For me, it was always the threat of "do you want me to send you to your mother's room?" Nooooooooo!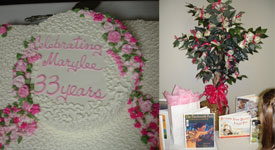 After graduating from college, I struggled deeply for several months with what emerged into a "call to ministry." Since the fall of 1991, I have continued to seek and allow God to use my life "to prepare God's people for works of service, so that the body of Christ may be built up" (Ephesians 4.12). Throughout the past 16 years in full-time and bivocational ministry service, it has been the Word of God that Christ has used to distinctly speak, guide, shape and direct me.
I thank my mom again for instilling within me a love for reading, for reading not only has shaped my life but enabled me to help shape others as well.
Who would have thought that a a vocation known for "ssssshhhhhhhhh" could impact so many?
On this day...
Latest posts by Jeff Noble
(see all)