OK, I know that Mark started a few days ago, but beginning here at Notes, we're hoping to pass on the challenge to all bloggers. During this season of giving, give your readers a chuckle and describe for them (with pictures too), your high school days.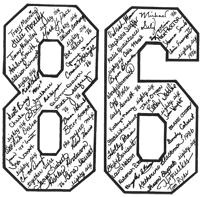 I graduated from Pulaski Academy in 1986, having grown up in Little Rock. I never had a home computer. The Franzetti's down the street in Marlowe Manor had several different ones during my junior high and high school career. They were early adopters. I think they had a Commodore 64, a TRS-80, and even an Apple IIe or something.
High school remembrances for me, are unfortunately, fuzzy. I was just talking with the Wegley's the other day at DP about my excellent short-term memory but my atrocious long-term memory. It's all "in the moment" for me, it seems. Even at my 20th high school reunion this year, I wracked my brain for "stories" but just couldn't dredge up many. However, when I heard folks telling a story, I could churn it out of the brain printer relatively easily. I'd think to myself, "Oh yeaaaaaahhhh. I remember that." But to call it up out of memory myself? Forget it.
So, if you went to high school with me.. tell me stories about it. If you think I'm a conversational dullard, it's only because I have nothing to contribute until you prime the pump. I hate that, but that's the way it is.

I concluded a few years ago that the reason this picture is so bad is because it's not my good side. But this is the "Official Senior Mug Shut" that you'll find in my senior yearbook and probably still adorning the side of mom's refrigerator. Oh, how I wish someone had slapped me and convinced me a few months earlier to lose the "butt part" in favor of the side part which I wore the final semester of my senior year. Not that it got me any more dates or attention, but it did seem to get me into college. I doubt I would have made it without being a distraction in class.
"Mr. Noble, could you please muss your hair? Your butt part is causing a train wreck of my thoughts and inclines me to reject an ordered universe…"
Some of my interests and activities in high school included basketball (although I stopped playing after my sophomore year, I think). I stayed involved by helping to video all the games for the coaches and even managing to secure the manager's role for the high school girls' volleyball team, though I was denied locker room privileges. I was heavily involved with journalism, helping with the student newspaper and the yearbook. My closer circle of friends originated within that group. Mark Dalrymple, Nick Proctor, Ray Minor, Shannon Sorrels, Becky Teddlie, and others were a daily romp of insanity.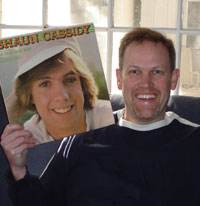 It seemed I just as easily passed from one traditional high school social clique to the next, not really having a definite niche. I felt equally comfortable around any level of immaturity, I guess. I was involved in the Fellowship of Christian Athletes, serving as president; French Club, Student Council, serving as treasurer my junior year and losing the presidential election to Jimmy Mulhollan my senior year; Beta Club and National Honor Society.
The "church kid" group was another I hung out with quite a bit. I attended Immanuel Baptist Church during that time, but most of my closer friends were members at First Baptist. During lunch or class break (surely it wasn't called recess?!), you'd find me out in the courtyard, having first made a stop at the "candy cart" for a Snickers, visiting and laughing. Come to think of it, I wonder if Governor Huckabee's crazy fitness program shut down P.A.'s candy cart in the last few years?
Tomorrow… all about the U.S.A for Jeff campaign…
On this day...
Latest posts by Jeff Noble
(see all)