Many of you who know us well and have been following this gradual epic of "Our Story" may have been waiting for this particular entry. In some ways, this week in October 1994 still remains the epicenter of our relationship. It was both our worst and best week ever.
Since moving to Garland in the summer of 1992, we had truly carved out a wonderful niche for ourselves among the families, youth, and staff of First Baptist. We loved it. While every church has problems, and they always seem to be intensified at the moment you live through them, our memories of FBCG are ones of delight and gratitude. It was through that family of Christ that we experienced intensive care at a time when we most needed it.
In October 1994, I was beginning my last year of seminary. I would graduate the following May, and the church was entering a massive building project to create a Family Life Center. After much prayer and a sense of calling, I had moved into the position of Young Adult and Singles Minister at the church, becoming a peer with Kevin on staff (no more cleaning volleyball pole holes as a youth intern!).
Carolyn had been cancer-free for two years, and we were seeing the Lord do some extraordinary things in the lives of singles and young families.
Those days were not without some scares. Carolyn had had a few lumps appear since the cancer that had to be biopsied to ensure that they were not the return of Hodgkin's Disease. All had tested benign. However, she had had a lump under her arm removed the previous week, and we were a little on edge as we waited for the results.
On Monday, Carolyn's 1987 Nissan Sentra SE – completely dependable to this point – hiccuped, coughed, and then died. A tow to the service bay revealed that the engine was shot. $1500 estimate to replace it. We were devastated. It was just not something we had money for at all. We moped around and wondered "why" like most of us do when inexplicable and inconvenient things happen.
On Wednesday, I was studying in the library at seminary when Carolyn called me. There was a quiet hush on the line, and then I heard a familiar refrain…
"Jeff, it's cancer."
I drove immediately back to Garland from Fort Worth, pondering the implications and praying all the way for understanding and strength. The return of cancer certainly caused the inconvenience of a car breakdown to pale in comparison.
Upon arriving at home, on Avenue D, just a block from the church, Carolyn and I spent the afternoon together, talking, crying and seeking comfort from each other and the Lord. We also started calling family and friends. Little did we know at that point the magnitude of prayer effort that would soon be organized for us around the nation.
Sleeping on things always helps, but Thursday was surreal. I went to the church to work, and Carolyn returned to her teller job at Nation's Bank.
Friday was rainy.. and unbelievable.I walked home from the church at lunchtime to grab a bite to eat, and upon arriving, was curious at the aroma of wood burning on the front porch. As I opened the front door, a black cloud of smoke and heat billowed out, singing the hay scarecrow hanging on the front door. Startled, I peered inside, through the smoky haze.
Seeing no flames, and not really thinking clearly (surprised?), I ran into the house to use the phone in the living room to call 9-1-1. As I blurted out that our house was on fire to the voice on the other end, she asked, "Sir, where are you now?"
"In the living room," I replied breathlessly.
"Of the house that's on fire?" she asked incredulously.
The realization of my stupidity dawned on me as I meekly replied, "Uh, yes."
"Get out of the house, sir," she ordered. "The fire department is on its way."
Everything was such a blur for the next hour, I barely remember the sequence of events. I do distinctly remember two things:
I ran next door and called Carolyn at work. I told her our house was on fire. She didn't believe me, and I had to put the neighbor girl on the phone to convince her. "Omigosh," she said, and hung up.
I was standing in the front yard, watching the fire department arrive and prepare to enter the house when two of our church's deacons showed up. It was drizzling, and they stood there with me, comforting and encouraging me. At this time, Carolyn arrived. She had had to go the long way since Avenue D (a major thoroughfare east-west between Garland and Dallas) was blocked by the fire trucks. As she trudged through the wet lawn to where we were standing under an umbrella, all we heard my beautiful spouse saying over and over again was some colorful expletives.
I also remember grinning sheepishly at the two deacons and then all of us bursting out laughing at the sheer unreality of it all.
It was only a few minutes later that our State Farm agent, Danny Binz, arrived with a significant check in his hand. I can't remember if I'd called or how he found out, but he was literally there out of the blue. He was also a member of our church."Go check into a hotel, get some dinner and then go get you some clothes," he said. He was incredible. Rather, the Lord was.
In our moment of total shock and at the culmination of what we've since always referred to as "The Week From Hell," the Lord was present and reminding us of His love and provision.
Dazedly, we checked into the La Quinta and discovered over the next week or so a very caring and kind staff who went the extra mile to allow us to feel at home. We ate out for the next week or so, and were invited into so many people's homes for meals that we could never possibly thank them for their kindness.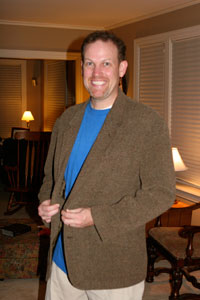 That Saturday, we went to Town East Mall in Mesquite, with the money we'd been given to shop for some clothes and needed items. Since church was the next day, and all our clothes and belongings had been smoke-damaged, we had to get some "Sunday clothes." Carolyn was rather excited about it all, but I was rather uncomfortable. I just don't clothes shop. Period.
I remember walking into a trendy store of the time called Structure. There were life-sized posters hanging everywhere of models in Structure clothes. A salesman noticed my discomfort and asked, "May I help you?" I looked around, overwhelmed, and said simply, "Make me look like one of those guys," pointing to one of the posters.
I was out of there in 15 minutes with a large sack of clothes. I still have the cool, tweedy sports coat I bought that day.
As treatment began in the next few weeks, we learned that it would drag on for a while. Carolyn would have intense chemotherapy this time. We had to find a new home, and were relieved to discover a nice home just around the corner from where we were. As we settled in and buckled down, we simply sought to endure for the next several months.
Our church family was incredible to us all during this time. We received cards and notes from other churches and individuals from dozens of cities over the next several weeks. We were literally upheld by the prayers of the saints during this time.
As Caro began losing her hair, she amazed me at her resilience and strength. True to our nature, we found ways to laugh and simply lean on God during all those hard days. It was His unrelenting assurance of His love for us in a thousand small and large ways that kept us looking up and looking out. He simply would not allow us to become self-consumed. It was a glorious blessing. The worst thing anyone can ever do is to focus exclusively on themselves and the "unfairness" or "wrongness" of whatever they're enduring.
Dear friends, do not be surprised at the painful trial you are suffering, as though something strange were happening to you. But rejoice that you participate in the sufferings of Christ, so that you may be overjoyed when his glory is revealed. (1 Peter 4.12-13)
As 1995 began, we were wondering what was next for us. We were struggling to decide if FBCG was where God wanted us for the longterm, or if He was preparing us for something else. A pastoral change at the church had left us and most of the staff reeling with the abrupt change in morale as well.
In July, the doctors (who were incredible) would inform us that there was no trace of cancer left. The treatments appeared to have been completely successful. We and hundreds of others who had joined us in our ordeal through prayer and support rejoiced and thanked the Lord.
However it was late that spring that an arbitrary encounter with someone at seminary proved to be a supremely transitional event. You just never know what the next day will bring.
To be continued…
(By the way, there is another version of this story that I wrote back in 1995 here.)
Also in Our Cancer Saga
Carolyn was first diagnosed with Hodgkin's Disease in 1991. Since then, it's been a wild, crazy cancer saga.
Our Story, a week in October
On this day...
Latest posts by Jeff Noble
(see all)