It was a rather strange experience. We were sitting in the airport lobby of Love Field just outside Dallas sharing soft drinks with David James, the Collegiate Ministry Team leader for Arkansas Baptists. After visiting with him on the phone that evening, we had scheduled an initial interview with him.
During the last week of May 1995, I found myself sitting in a room at Ouachita Baptist University for the yearly Arkansas BSU Directors workshop. Campus ministers from across the state converged once a year for refreshment, fellowship, planning, praying and strategy for the upcoming year of ministry. There were several other "new guys" there during that May: Neal Nelson (then at SAU Tech, later to move to HSU), Jackie Flake (UAPB), and Tim Smith (UALR).
It was much easier attending the meeting and making the transition with others who were doing the same thing. In fact, I remain extremely close with three of those guys, including Ben Phillips (SAU) who came on board the following year.
In a short span, Carolyn and I had purchased our first house, met two dozen new collegians, and over that first summer "remodeled" the Baptist Student Union ministry building at UAM. We began to gear up for the fall of 1995, when students would arrive back on campus and planned an event-packed "Welcome Week."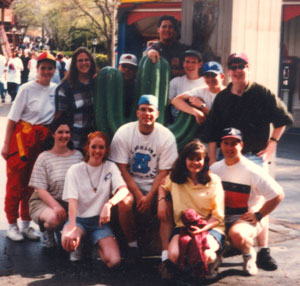 So began an eight-year love affair with campus ministry that still runs in my blood. Carolyn and I both found an incredible network of friends and support in the campus ministry family in Arkansas. Because we remained in the Southern Baptist Convention, our health insurance transferred over, which was a huge concern because of Carolyn's cancer (the term pre-existing condition suddenly became an important part of our lives). In addition, our children were born while I ministered with collegians. I'm convinced there's no greater place to raise your children than around Christian college students. They loved our babies and poured their lives into ours even as we also poured ours into theirs.
The BSU became the BCM in about 2001 – from Baptist Student Union to Baptist Collegiate Ministry. I'm still not sure if the change was necessary, but it was part of a wholesale denominational effort at transitioning what were deemed as generational names for organizations – "Union" – to a more apt description of who we were.
At our campus ministry at UAM, we developed the following vision statement:
To magnify God as life's ultimate joy by inviting students into an authentic relationship with Jesus Christ
and equipping them for loving ministry to others for His glory.
In many ways, that vision statement still describes my own approach to ministry. God is life's ultimate joy! We were created to know and enjoy Him forever. So many folks relegate God to some heavenly Santa Claus or Inglorious Grinch. However, the only way to truly love our Creator is to devote your life to knowing Him. It's a life-shaping and never-ending pursuit that results in our own fulfillment and joy.
As a campus minister, my eyes were also opened to the world. Having always served on church staffs before this time, I had allowed myself to become myopic in my vision. It was always trying to get ready for the next week, the next worship service, etc. However, with collegiate ministry, we began to think.
What did we want a Christian college student to look like? What did we want them to do? And more importantly, how could God use young people who devoted their lives to Him while young?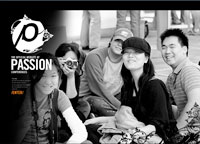 Through the influence of the Passion movement and One Day events, I ran into biblical teachers like Louie Giglio, John Piper, Beth Moore, Voddie Baucham and others. Carolyn and I had our entire Christian worldview transformed as we saw in the scriptures that God's primary goal is His own glory. He does not exist for us. It's not about us. Life is about God and bringing Him glory!
We began to live that way. And we began to direct collegians toward God's glory in everything they did. We saw lives transformed first by the Gospel through student salvations, and then we were delighted to see life purposes and missions being redirected as students embraced the pursuit of God's glory wholeheartedly.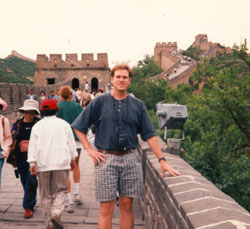 I was humbled to be able to lead student teams all over the world – all with students from southeast Arkansas and beyond. I walked the Great Wall of China two different summers as we shared the love of Christ in conversations on a Chinese university campus. A group of students were deeply challenged to get out of their comfort zones as we did evangelistic surveys on the campus of the University of Colorado at Boulder. We ministered on the campuses of the University of Southern Maine, Colby College, and University of Connecticut. We walked the campuses of three different universities in Alberta, Canada, seeking to strengthen existing Baptist campus ministries there. I traveled to the Ukraine, to Slovenia and to the Dominican Republic.
In short, we realized with deep conviction that there was no place on our planet that was not under God's authority. We took seriously Jesus' words "to go into all the world and make disciples of all nations, baptizing them in the name of the Father, the Son and the Holy Spirit." (Matthew 28.19-20)
All the while, we continued to notice that the local churches in our area were much like the ones I had served at previously – more concerned with programs and activities than leading their members to spiritual maturity and preparing them to proclaim the glory of God locally and among the nations.
However, in the midst of incredible activity, ministry and delight, our life was turned upside down again.
To be continued…
On this day...
Latest posts by Jeff Noble
(see all)