Where were we? Oh yeah… early 1991. A surrender to ministry. Plans for seminary. A little over six months in a romantic relationship with my best friend – Carolyn that is. I always feel like I have to qualify that because Mitch and I had been like brothers since our freshman year.
We had actually met our senior year in high school at a yearbook editors' workshop of some kind. He's the one with the elephant memory – he probably even remembers what we were wearing (or is that more like a woman's memory?).
We ended up by "chance" having rooms next door to one another on the first floor of Daniel South dormitory at OBU our freshman year, and from then on out, we were always next door neighbors/best friends. He roomed with another great friend of ours, Dennis Tucker – who is now teaching at the George Truett Theological Seminary in Waco, Texas – until our senior year. At that point, Mitch and I got an apartment together. By the time Caro and I started dating, we had moved into a house on 26th Stree but later located to a great country home outside Arkadelphia in a little community known as Cedar Grove. It was there that Mitch hung our first and only pet – Petey. Sniff.
My friendship with Mitch and my other friends, played a huge role in mine and Caro's relationship. Whenever any of us "dated," it was always a rather awkward thing of whether the girl would "fit in" to our network of friends. It was a pretty unusual group. For one, we had no boundaries, it seemed. We were always playing practical jokes on one another, borrowing things from the other, and in each other's dorm rooms or apartments until the wee hours.
It was the most fun-loving group of friends I'd known to that point. Mitch and I worked together in the yearbook office – he was editor, and I also wrote a weekly column for the school newspaper. We spent hours together in Fleniken – the journalism empire of Ouachita. It was there that we were first introduced to Macintosh computers – way back in 1987. We never looked back.
In addition, Mitch and I always seemed to either be the brunt of someone else's practical joke or were on the giving end of one. The police were occasionally involved. So was the dean of students. And fireworks. Possibly a permanent marker or two… Anyway, I digress.
The whole spring semester of 1991 went by in a blur for me. Mitch and I were talking seriously about how I could gracefully transition out of our advertising business. Another friend eventually stepped in with a desire to purchase my share of the company, and it looked like things would continue growing.
However, I was ransacked with bitter-sweet emotions all during that spring. I applied and was accepted to Southwestern Baptist Theological Seminary's master's program for M.Div. I located a job at a children's home about 40 miles southwest of Fort Worth. Yet, I was leaving Arkadelphia, which in many ways contained some of the most carefree and wondrous moments of my life. It was really in Arkadelphia and at OBU that I began to "come into my own." The friendships I established there continue to this day, and the thought of leaving was hard to swallow.
In particular, I wasn't real keen on leaving Carolyn. We had dozens of deep conversations, and as we both came to grips with the idea of continuing our relationship long distance, we also discovered the peace that came from each of us recognizing the other as a gift from the Lord. We simply knew that if Christ remained central in our relationship, we would be blessed by whatever happened.
That spring semester was one of laughter, joy, simplicity and getting to know each other. Carolyn worked the switchboard at OBU, and her office was inside a glass "cage" in the old Grant Administration Building. I used to try to sneak into the building at night (I think she worked till 9 or 10 each evening) and scare the willies out of her. We often drove to Hot Springs on the weekend to eat at our second favorite place – La Hacienda (we love it to this day). Our first favorite was Kreg's Catfish in Arkadelphia, but it closed down a few years after we left.
Carolyn was as active on campus as I had been, and while Mitch and I had a busy work schedule, Caro was deeply involved at school too. From her social club to the Ouachita Student Foundation, Baptist Student Union, well.. you get the drift.
Carolyn and Mitch had known each other about as long as Carolyn and I had known each other. Mitch and I were so often together – work, classes, social lives – that you pretty much got a package deal. I didn't realize during the end of that spring semester that Mitch and Carolyn had begun to plan and talk behind my back.
It wasn't until after the damage had been done that I found this note that had been sent out to over a hundred students, faculty, friends, and family:
Glad I didn't find out until after the fact. It still sends chills up and down my spine today.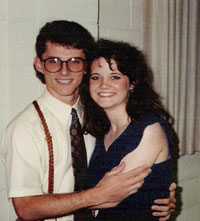 My two best friends collaborated behind my back to "roast" me. To this day, I wonder at the thought of a 23 year-old guy getting a roast. Surely I hadn't been that obnoxious? I mean, come on. I'm a real sweetie.
However, I was somehow fooled into showing up at Third Street Baptist Church's fellowship hall one evening in May and was greeted with the uncomfortably joyful-bowel-emptying sight of a room full of family, friends, old girlfriends (several), church staff, deacons, social club-fraternity/sorority members, OBU faculty and well, the list goes on. My worlds were colliding like freight trains.
One by one, different "friends" got up to share something they remembered about me. There were some very uncomfortable moments as I realized that all my exes didn't live in Texas. They were there… and talking. Why wasn't the air conditioning working very well, I kept thinking to myself. My former pastor, Gary Turner, couldn't be there but had made a video tape of him going all over town talking to people about me. It was hysterical.
There were also gifts. I was overwhelmed. Truly. To this day, I wonder what in the world really happened that evening? Why would all those people come together? Surely it wasn't just for the sheer maliciousness of making me uncomfortable? Ok, so it probably was. However, I was asked to say a few words, and I confess I have no idea what I said, but I do remember something getting in my eyes and throat. Must have been allergies, I suppose. Mitch apparently had the same allergies, because his eyes were doing the same as mine when he shared.
It all seems rather surreal looking back on it. Caro and I really only had one school year "together" at Ouachita. It seems like we had forever… And I was fixing to leave in a few short weeks to begin a new job, in a new state, with a new direction in life. I had never been in a long distance relationship before. Caro and I talked about marriage even at that point, but she and her mom were adamant about her finishing school, and I knew it was probably the wisest course of action.
So, with very mixed emotions, Caro and I loaded up a U-Haul, my new-to-me Geo Metro (I had sold my Geo Tracker cause I thought it would sensible. I regretted it for a long time) and her Nissan Sentra and headed out to Texas one weekend to move me to Granbury, Texas.
To be continued…
On this day...
Latest posts by Jeff Noble
(see all)