As I was crawling around in the attic last night looking for pictures of my senior year, Carolyn unearthed her old scrapbook from college. It was a tattered red thing, bent bulging – full of yellowed papers, buttons, collages, and writing next to the pictures. It was quite different from the photo albums I have from those days. The 2-3 albums I had bought (why did I do that? why should any guy have photo albums?) have places for pictures. So that's what went in those slots. Pictures. There's no fru fru stuff in there and no writing with hearts over the "i's" instead of dots. Just rows of pictures.
Anyway, one good thing about Caro's album is that it was like a hard drive. Everything was there, albeit in disarray. However, I was able to access some old letters she had saved from me. They were my first ones to her. They began in early June of 1990… Just about the time she left to go to NM for the first part of the summer.
The letters reveal that I was earnestly looking for some hint, some sign of breaking in her resolve to "never date Jeff Noble." As I recall, the big "C" word had become something of her joke to me. "Commitment." My dating life over the past year had shown that I really didn't know what that was.
I think it was some late night conversations with Mitch that finally made me take a huge chance. I bought a ticket to fly out to see her. Yup. I was relieved that Carolyn was excited about that. It was probably the craziest thing I'd ever done – bought a ticket on the hopes that it would also be a flight into my future.
I remember making a cheesy little sign that I nervously displayed to Carolyn when I arrived at the airport. It said:
ATTENTION MISS CAROLYN BROOKS:
Here's your little boy. We were committed to getting him here safely.
Will you take care of his commitment from here?
— Thanks for flying TWA
My intentions were simply this. If she got cold feet, I was ready to go back home in ignominious defeat. However, when her beautiful blue eyes lit up and she embraced me laughing, I knew that things were going to get interesting. And I was committed to seeing it through.
I returned to Arkadelphia, and I welcome Caro back there a few weeks later when she arrived for summer school. She lived in a rent house with several of her friends, while Mitch and I were also renting a house across town on 26th Street. It was truly a blissful summer. For the first time, I simply rested in relationship.
There is so much about Caro's and my relationship to this day that for some reason reminds me of my relationship with Christ. I think I understand more and more everyday why the church is called the "bride of Christ." Paul said the union between man and wife was "mysterious" in how it compared to God and His Church. Truly. The best thing I can say is that when we fall in love with God in Christ, we find our hearts finally at home in Him.
That is similar to what I discovered in my companionship with Caro. We had already developed an incredible, deep, respecting friendship. Now… now we were able to simply explore what intimacy meant in a Christlike way. I was now truly in love with my best friend.. and it wasn't Mitch. 😉 My heart, I knew now, had dared to hope, but without her affirmative response, the hope had been suppressed. But it was now soaring.
bubububbubububub (the sound of shaking your head so fast that your lips flap). Did I just type out some incriminating mushy stuff?! Say quickly out loud, "I will not watch Steel Magnolias. I will not watch Steel Magnolias. Jack Bauer is da man." Whew. Much better.
Summer turned to fall, and Caro began her sophomore year. I resigned at Third Street Baptist Church feeling like I needed to invest my time in our business. I reasoned that God was directing me to be an independently wealthy Christian businessman, so I didn't need to be "in the ministry." Plus, there was that earlier vow of Carolyn that she would "never marry a preacher."
I sooon joined Caddo Valley Baptist Church where Scott Duvall, a new professor at OBU was the interim pastor. He continued the incredible scriptural teaching legacy that I had grown up under – first with Dr. W.O. Vaught at Immanuel Baptist Church Little Rock and during college under Gary Turner at Third Street. Scott was a gifted teacher, and I simply ate up scripture under his ministry. I soon began teaching myself – in the college Sunday School department at the church. I loved every minute of it. Carolyn also helped me, and we watch in humble delight as the group grew weekly (I'm sure most of it was because of Scott's leadership).
Carolyn had pledged EEE (it's a huge, BIG secret what those letters stand for, and da-da-da-dum… I know!!! Highest bidder!) during her freshman year, and she was heavily involved in all kinds of school activities. It was probably that first year together that set the pace for our lives today. We simply thrived on hustle and bustle.
Caro had gone "potluck" with a roommate her first year, and had been paired up with Melanie Cicero from Camden. They roomed together again her second year and were inseparable. At one point, Mel broke up with an old boyfriend, and I think we may have attempted to fix her and Mitch up. I just can't remember. At any point, we have photographic evidence that the four of us went to a Razorback game together in my Geo Tracker.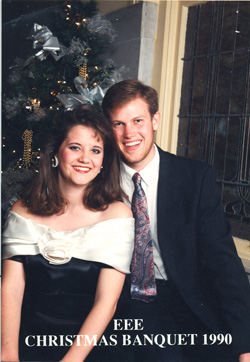 After almost six months together, it was now Christmas time! Caro invited me to her club's Christmas banquet, and although I was totally enthralled with her and the evening, I can distinctly remember being a little "off" all during Christmas vacation. Life had just been so busy and so… right. Yet something was brewing in my heart. I just couldn't figure it out. When I finally was helped to understand better what I was processing, I realized that it would mean a huge change for our relationship and direction. I just didn't know if I could do it.
To be continued…
On this day...
Latest posts by Jeff Noble
(see all)